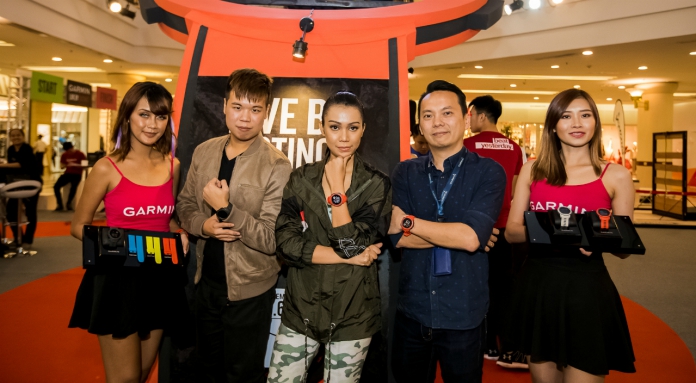 If you were looking for an accessory that epitomises your intuitive trait, look out for the new GARMIN INSTINCT outdoor GPS watch.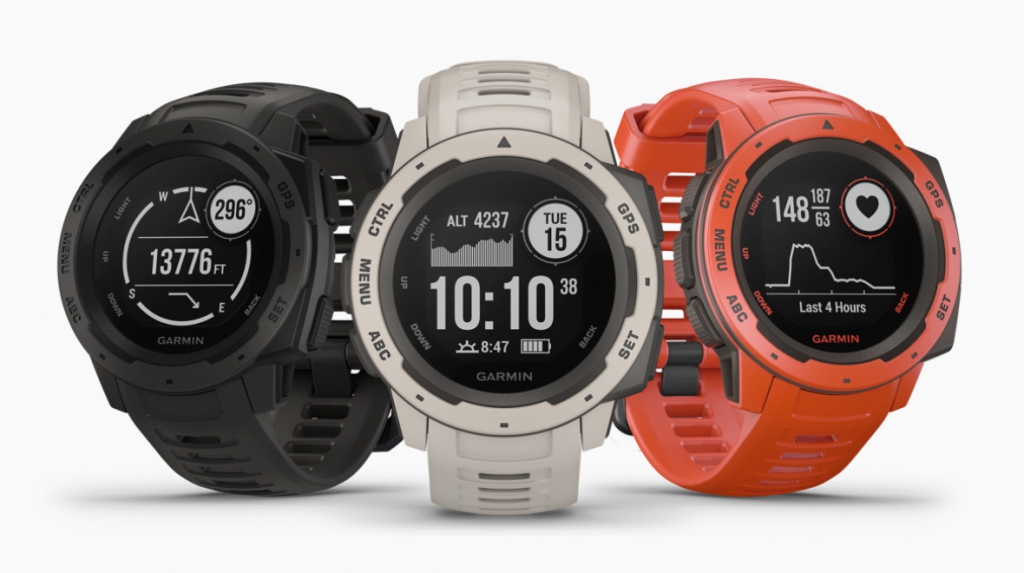 Designed with urban intuitive adventurers in mind, GARMIN INSTINCT is a reliable tool built to endure challenging environments. It is constructed to the U.S military standards (MIL-STD-810G) for thermal, shock and water resistance with a fibre reinforced polymer case. It can withstand temperatures of -20℃ to 60℃, and multi-directional shock testing from a drop distance of 122 cm. Its water resistance is rated to 100 meters, and it is also corrosion resistant, retaining its durability in salt-rich maritime environments.
While in the field, feel confident exploring off the beaten path thanks to its multiple GNSS satellite networks that helps to track a user's location in more challenging environments than with just GPS alone. GARMIN INSTINCT also provides comprehensive navigation and tracking functionalities, using GPS plus ABC (altimeter, barometer and compass). Before venturing out, use the Garmin Explore™ app to plan the trip in advance and when it's time to head back to camp, the TracBack® feature on the watch can navigate the same route back to the original starting point.
With built-in wrist-based heart rate, users can monitor daily activity, stress level, sleep and other wellness data. Whether camping, on a training run or going through day-to-day activities, GARMIN INSTINCT keeps track of heart rate, steps taken, distance travelled, calories burned and more. Hiking, running, biking, swimming, kayaking and skiing are just a few of the activities supported on the device. Through heart rate variability, the new GARMIN adventure watch innovation can track stress levels, allowing the user to be more aware of when physical or emotional sources may cause stress levels to rise.
As a modern Malaysian woman who lives a hectic life, GARMIN INSTINCT has been the perfect innovation for the award winning actress and fitness advocate – Sharifah Sakinah, GARMIN Malaysia brand ambassador.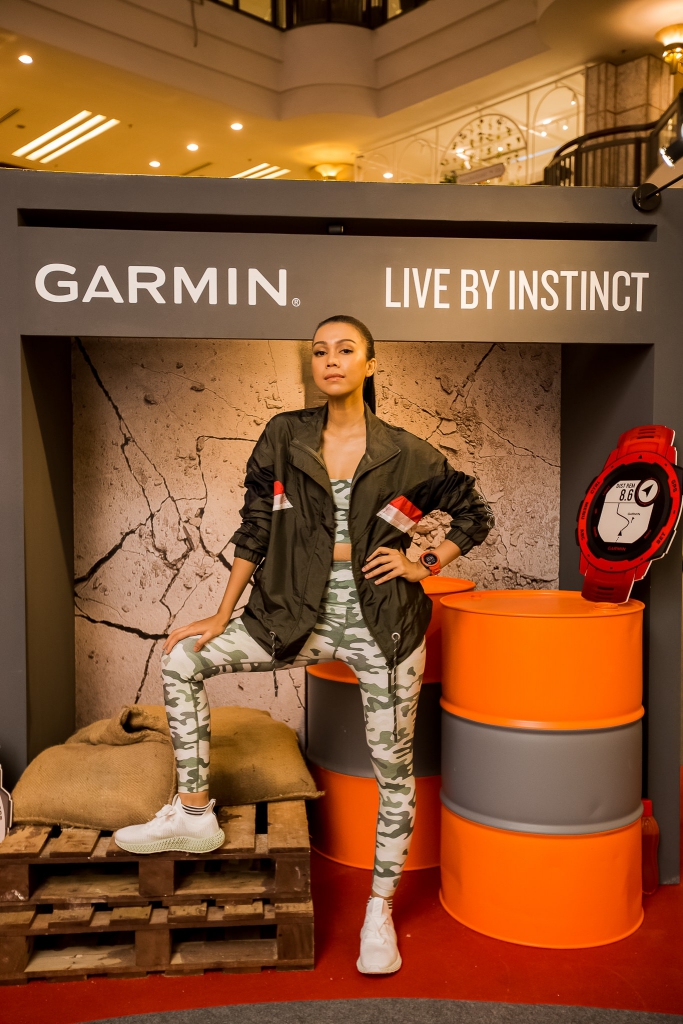 "Being an actress, intuition plays a large part in my life and GARMIN INSTINCT, in a way, epitomises my intuitive personality. In fact, I even regard it as more than a watch – it is a stylish companion that keeps my life in check," said Sharifah Sakinah. "From working out in the gym to hiking through the outdoor wilderness, Garmin Instinct is my personal record keeper as it tracks my day-to-day movements and activities. Furthermore, being in a challenging environment such as densely thick forests of Borneo is a breeze, thanks to the multiple GNSS satellite networks. Add in the cool colour swatches and the affordable price, I think everyone should own an Instinct!"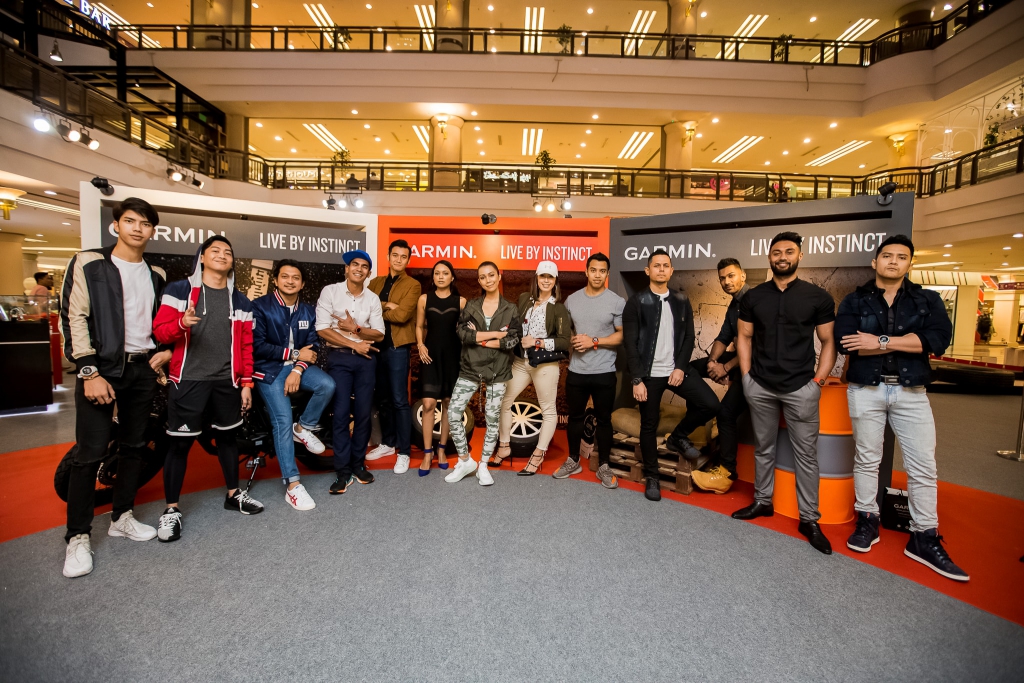 To commemorate the arrival of GARMIN INSTINCT on Malaysian shores, an exclusive concourse event was held where members of the media, VIPS and Garmin Instinct Friends – A complete corum of iconic & inspiring name in sports, fitness and lifestyle from GARMIN Malaysia brand ambassador Sharifah Sakinah – award winning actress & fitness enthusiast, Theeban Govindasamy – MMA fighter, Faiz Ariffin – National Physique Athlete, Redha Rozlan – Champion, Ninja League Challenge 2018, Fitness Personalities – Dennis Yin, Jazel Lim and Malaysia screen leading men & outdoor sports enthusiasts – Shukri Yahya & Ammar Alfian.
Following suit, a promotional road show will be rolled out at High Street Concourse (New Wing, Ground Floor) 1 Utama Shopping Centre, Petaling Jaya where customers can experience the wonders of GARMIN INSTINCT at the GARMIN INSTINCT Experiential Corner from 28th November 2018 – 2nd December 2018.
Exciting activities awaiting at the roadshow include GARMIN INSTINCT Obstacles Challenge where two winners (male and female) will receive a GARMIN INSTINCT each for the fastest timing as well as goodies upon completion of the assigned challenges. There is also a GARMIN INSTINCT Photo Booth where customers can have their snapshots taken. Also, stand a chance to win a GARMIN INSTINCT with the most creative caption and picture. Purchase a unit of GARMIN INSTINCT during the roadshow and receive a GARMIN waterproof bag worth RM110.00 plus discounts for other GARMIN products.
Water Rating
10 ATM (100 Metres)
Military Standard
MIL-STD-810G
ABC
Built-in navigation sensors including a 3-axis compass and barometric altimeter
TracBac & Navigation
Provides basic navigation and guidance when outdoors
Outdoor & GPS Features
Includes saving locations, Sight N' Go, Projecting Waypoints, proximity alarms, dual position formats and GPX imports
Wrist-Based Heart Rate
Elevate wrist-based HR gives you 24/7 monitoring. No chest strap required
QuikFit Compatibility
Compatible with QuickFit 22 watch bands (not included)
Connected Features
Allows you to see smart notifications, track your steps, sleeps, all-day stress and more using Garmin Connect
Battery Life
14 Days (Smartwatch mode)
14 Hours (GPS mode)
35 Hours (UltraTrac™ Battery Saver mode)
Colours
Graphite, Tundra and Flame Red
GARMIN INSTINCT retails for RM1,450.00. It is available now at GARMIN's headquarters (AECO Technologies), 43, Jalan Jejaka 2, Taman Maluri, Cheras; and concept stores around Malaysia, namely Mid Valley Megamall, Digital Mall Petaling Jaya, 1 Utama Shopping Centre, Taman Lagenda – Melaka, Juru Autocity – Penang, Bukit Indah – Johor, Paradigm Mall Parkson – Johor, Kuantan East Coast Mall – Pahang, and Kuching Vivacity Megamall – Sarawak (GARMIN Premium Reseller). For more information about GARMIN Malaysia and its range of offerings, visit www.garmin.com.my.
Read also: #Scenes: Emperor Watch and Jewellery Opens Its First Malaysian Boutique In Pavilion Kuala Lumpur