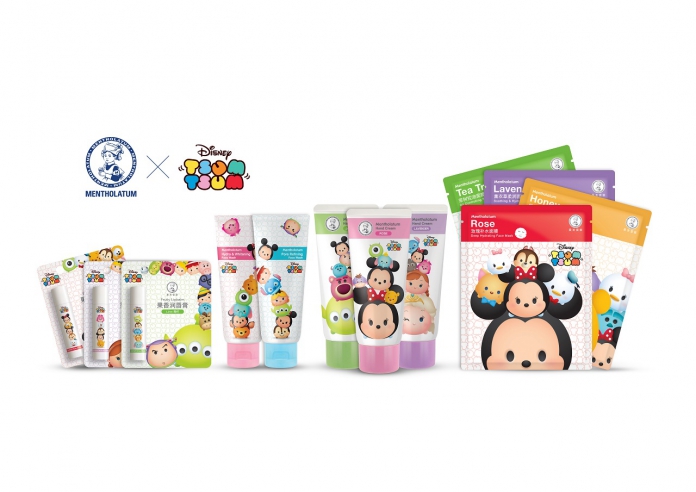 Tsum Tsum collectors, you'll go mad for the new Mentholatum Tsum Tsum beauty collection because it's super kawaii!
You'll fall in love with the floral and fruity scents on these adorable products and it also contains skin-loving ingredients to pamper your skin from facial sheet masks, fruity lipbalms, hand creams and face wash.
Mentholatum Tsum Tsum Face Mask, Single Sheet (RM7.90)
These adorable face masks come in four variants such as Rose, Lavender, Honey and Tea Tree to suit different skin needs.
Rose (Deep Hydrating Face Mask): Combines 4 types of super moisturizing ingredients and Hyaluronic Acid to provide intense 24-hours long lasting hydration to the skin, making it more firm, supple and smooth. Contains Wild Soybean Seed extract & Natural Yeast extract to help strengthen skin's natural protective barrier and smooth away roughness leaving the skin feeling velvety soft, supple and dewy moist. This mask is suitable for dehydrated skin.
Lavender (Soothing & Hydrating Face Mask): Made with 4 types of Hyaluronic Acid and soothing ingredients to help restore, nourish and strengthen the skin, leaving it refreshed and energized. It also contains Lavender & Chamomile Flower extracts to smoothen rough skin and calm skin irritated skin. It is suitable for tired and even sensitive skin.
Honey (Revitalizing Face Mask): For dull skin, this mask contains Vitamin C, Tranexamic Acid, and other brightening ingredients to deeply hydrate, soothe redness and improve skin tone, leaving your skin looking healthy and enhanced with natural radiance. Contains Natural Honey & Yeast extract to deeply nourish and moisturize the skin. It improves skin elasticity and minimizes the appearance of fine lines over time, to keep the skin looking plump and firm.
Tea Tree (Oil Controlling Face Mask): For oily and blemish-prone skin, this mask combines Chrysanthemum Flower extract, Houttuynia Cordata, Wild Soybean Seed and other natural ingredients to effectively control excess oil, minimize pores for a more refined and hydrated skin. It contains Hyaluronic Acid and Tea Tree extract to help boost skin moisture retention level and oil control. It also helps to minimize the appearance of fine lines thereby keeping the skin soft and smooth.
Mentholatum Tsum Tsum Face Wash (RM14.90, 100g)
Developed especially for Asian skin, these facial washes are perfect for the hot and humid weather like ours.
Hydra & Whitening Face Wash: Formulated with Arbutin and Rose extract to help brighten and improve skin radiance for a more even skin tone. It is also enriched with moisturizing ingredients to help retain and replenish skin moisture. The natural rose scent brings freshness and comfort to the skin.
Pore Refining Face Wash: Helps to minimize pores and re-balance oil using Lentil extract for a more refined smooth skin. Formulated with Rosemary and Witch Hazel extracts the face wash helps to deep cleanse and purify pores for a healthy clear complexion. It is also enriched with Aloe Extract to soothe and moisturize the skin while the natural orange scent lifts your mood and refreshes the skin at the same time.
Mentholatum Tsum Tsum Fruity Lipbalm (RM11.50, 3.5g)
Keep your lips soft, smooth, healthy and protected from the harsh environment with this lightweight lipbalm that comes in three variants such as Apple, Lime, and Peach! It also contains Vitamin E, Argan Oil, Meadowfoam Seed Oil and other moisturizing ingredients that deeply hydrate and nourish the lips.
Mentholatum Tsum Tsum Hand Cream (RM16.90, 50g)
With floral scents of Rose, Lavender, and Jasmine, this ultra-moisturizing hand cream is infused with Almond Oil and Sunflower Seed Oil as well as other moisturizing ingredients to help nourish, protect your hands and nails, and help you relax throughout the day.
The Mentholatum Tsum Tsum Collection is available at Watsons, AEON Wellness, Caring and Sasa nationwide.
Read also: Disney x Coach: A Dark Fairy Tale | A Twisted Take on Classic Disney Tales