Tucked away in a quieter side of one of the most desired and sought-after neighborhood of Mont. Kiara, B-Lab Bakery, Bistro & Bar (B-Lab) is situated prominently along the stretch of Verve Shops within the Verve Suites at Jalan Kiara 5. Short of being color blind, you would not be able to miss the eye-catching red signage welcoming you.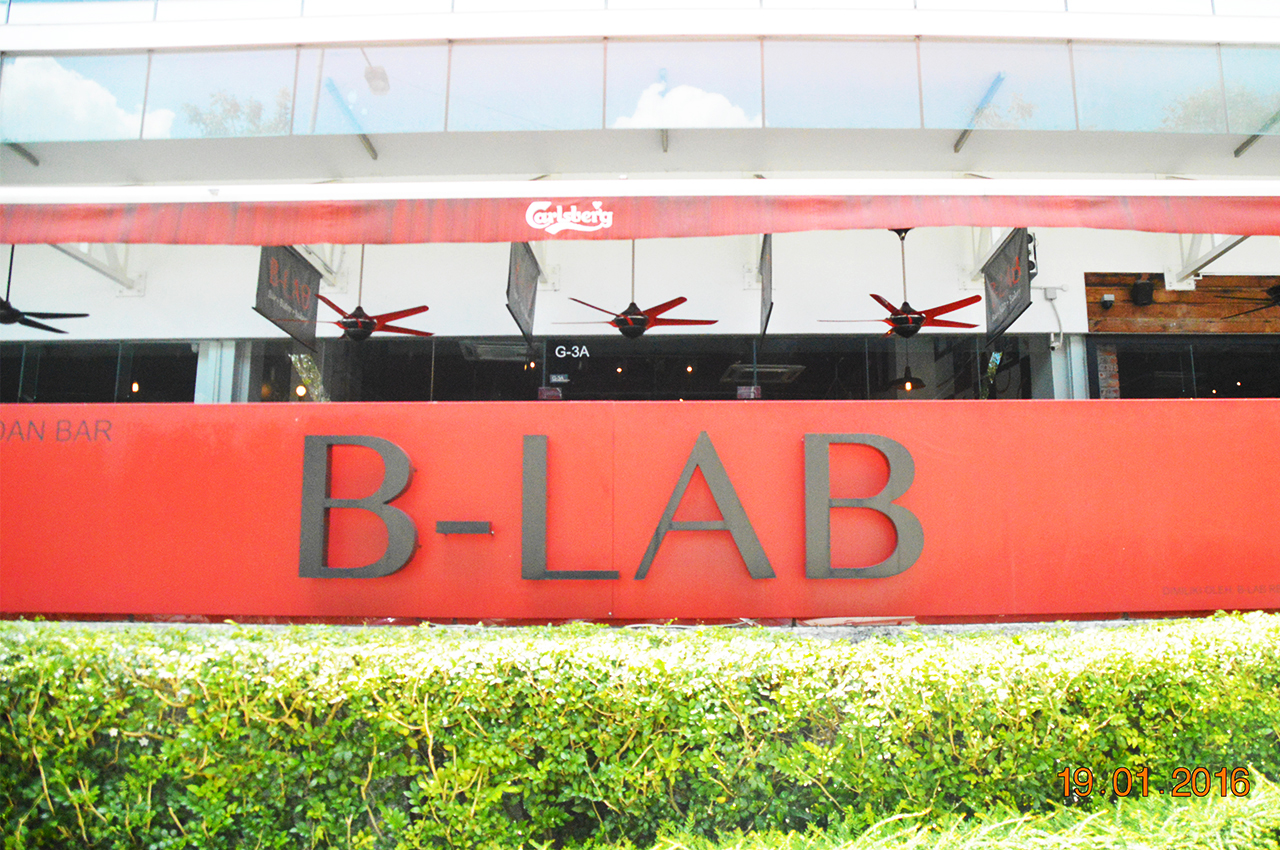 With close to 200 parking lots within the Verve Shops building, it's easy to park your car if you drove there. If you do not want to pay for the convenience and relative-safety of the provided parking space and rather pay the local council summons, you can park along the Jalan Kiara 5 main road and cause inconvenience to other road users.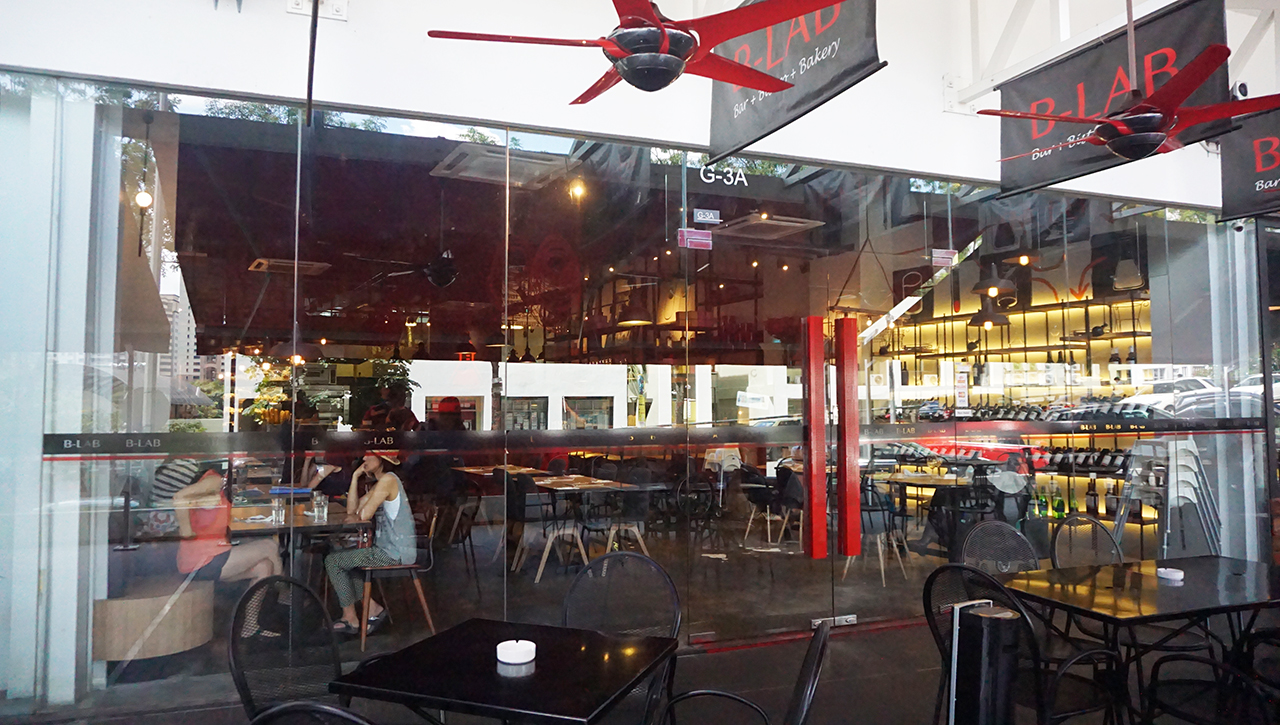 The first thing that greet you when you reach B-Lab is the bright red handled glass doors that's almost seducing you to hold and open them. Outside is a spacious alfresco dining area where you can sit back and enjoy a cuppa while watching traffic and the world go by.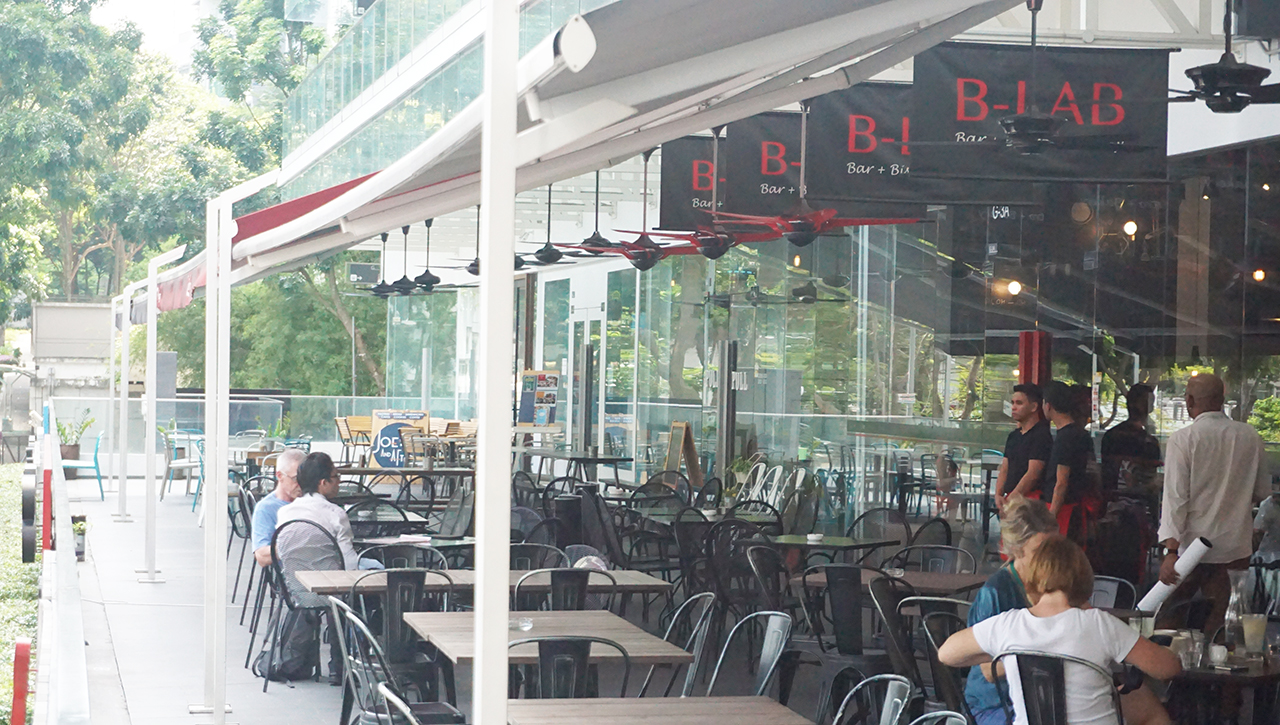 Inside, the décor exudes a bright and vibrant feel with a color combination of white, black and red. With an interior design of laboratory experimental concept, drawings of laboratory equipment and scientific formulas are peppered everywhere on the walls as to distract your mind wondering what are those about. Perhaps it served to illustrate the extensive planning and experimentation done to put together the relaxing atmosphere and to concoct the amazing and flavorful dishes awaiting you.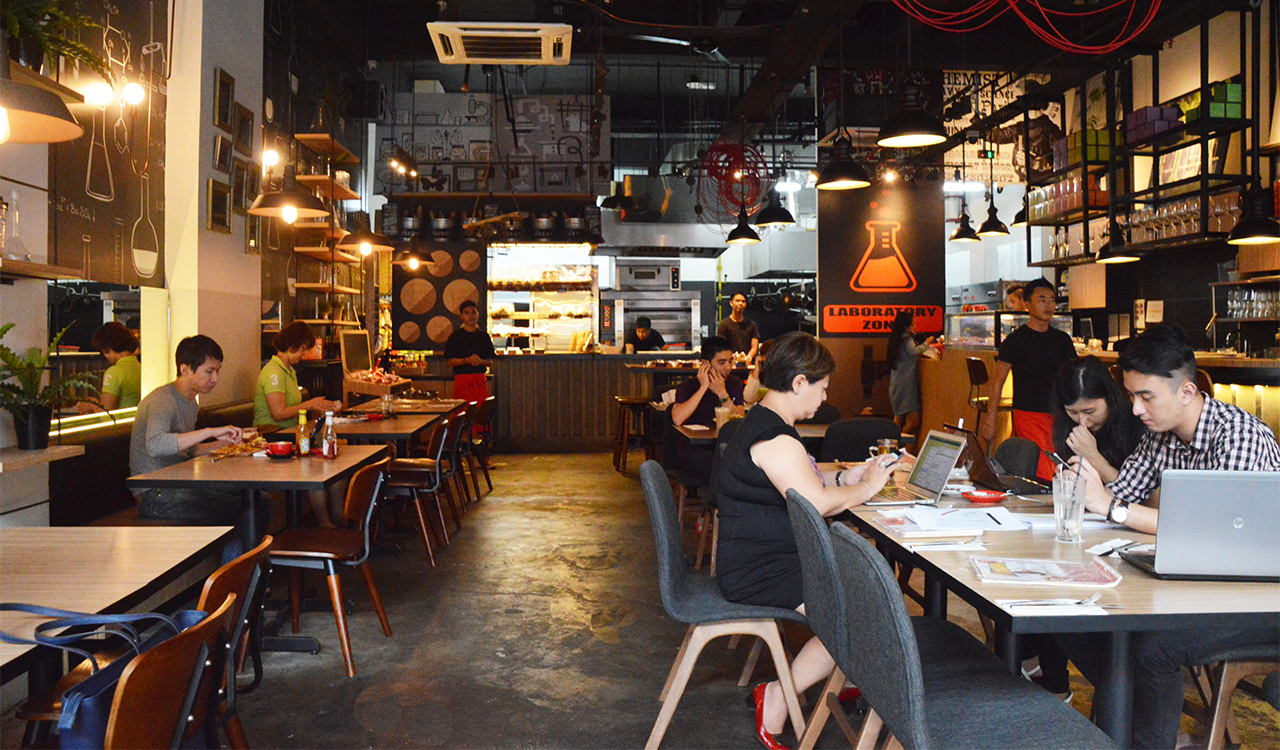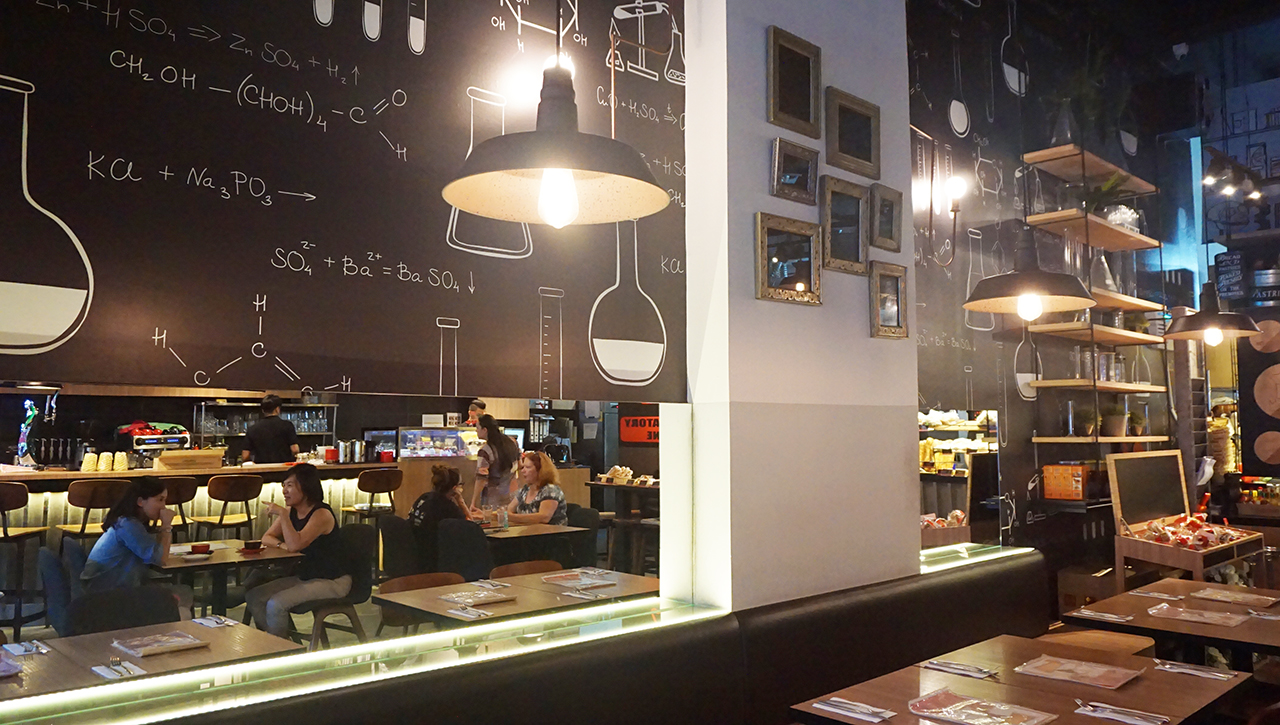 Being a three-in-one dining venue under one roof, B-Lab has an all-day European-style bakery, a bistro and a bar. Starting from 8.00am, the bakery bakes and serve a variety of fresh artisanal breads, pastries and desserts. The bistro serves an eclectic selection of Euro-Asian fare while the bar serves an extensive collection of wines from various countries, beers and cock-and-mocktails.
The wholesome breakfasts and brunch menu starts from 8am till 3pm while the lunch and dinner menus commences from 12pm and 6pm till closing respectively.
Food Section
Most of the ingredients are sourced and imported from Japan and Europe to ensure that the food materials are of the highest quality and retain its freshness. While it is common that Japanese Sushi-and-Sashimi restaurants source their ingredients directly from Japan, it is uncommon to find a bistro to do the same thus B-Lab is at the top of the game.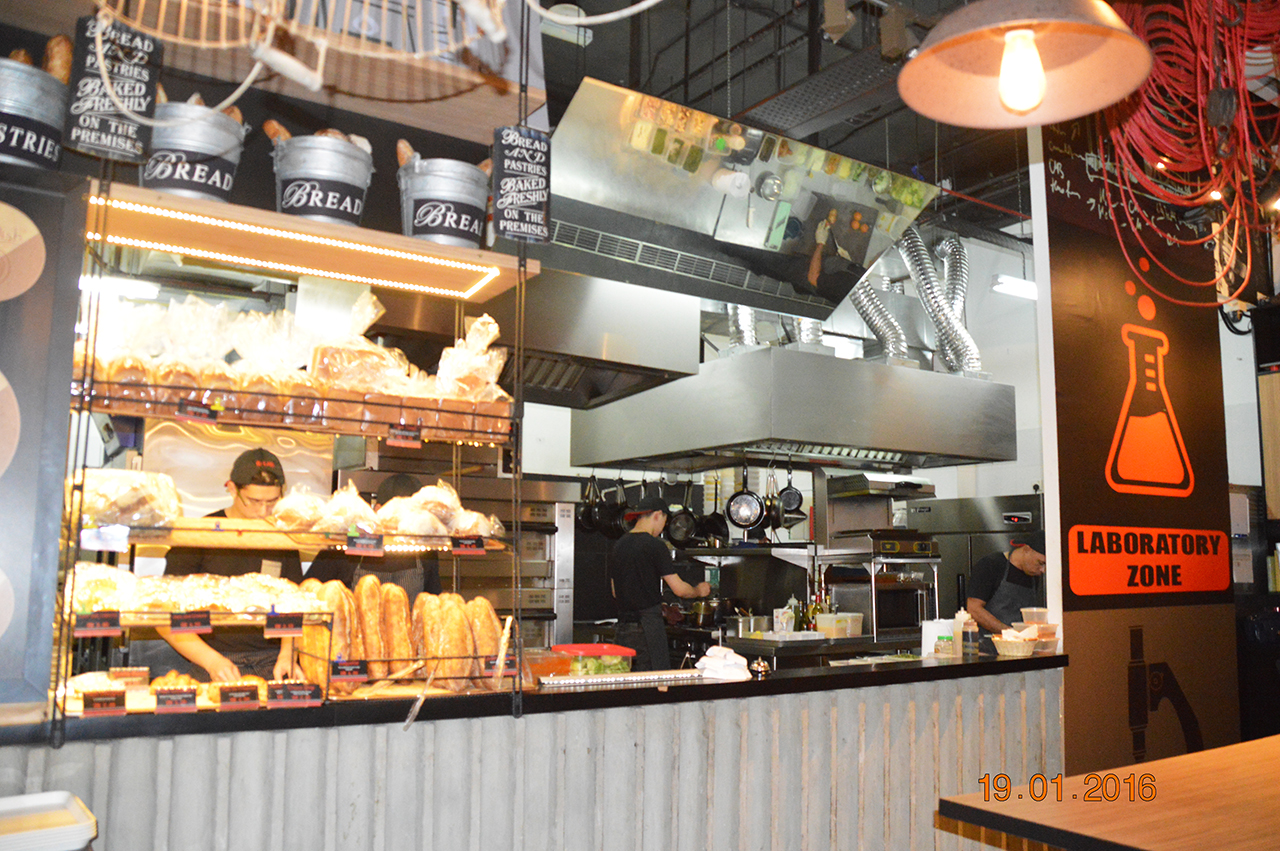 The breakfast menu features a wide array of egg-centric dishes, evergreen sandwiches and B-Lab's spin on those all-time favorites. The lunchtime menu offers diverse pasta choices, thin-crusted pizzas, soups and healthy salads. If bread is your choice, you can try their freshly baked artisanal breads such as French gorgonzola cheese focaccia, bacon quiche, espresso walnut loaves and raisin almond sourdough.
For late lunch-cum-dinner, we placed an order for their "Half & Half" specialty pizza where two flavors were set on a single crispy thin-crusted pizza – Smoked Duck and Brie Cheese; hot thick Pumpkin Soup with a complimentary basket of hard breads which were similar to baguettes; spicy and tangy Garlic & Chili Scrimp Spaghetti; Croque Madame, a classic French ham sandwich drizzled with Mornay sauce and topped with a fried egg.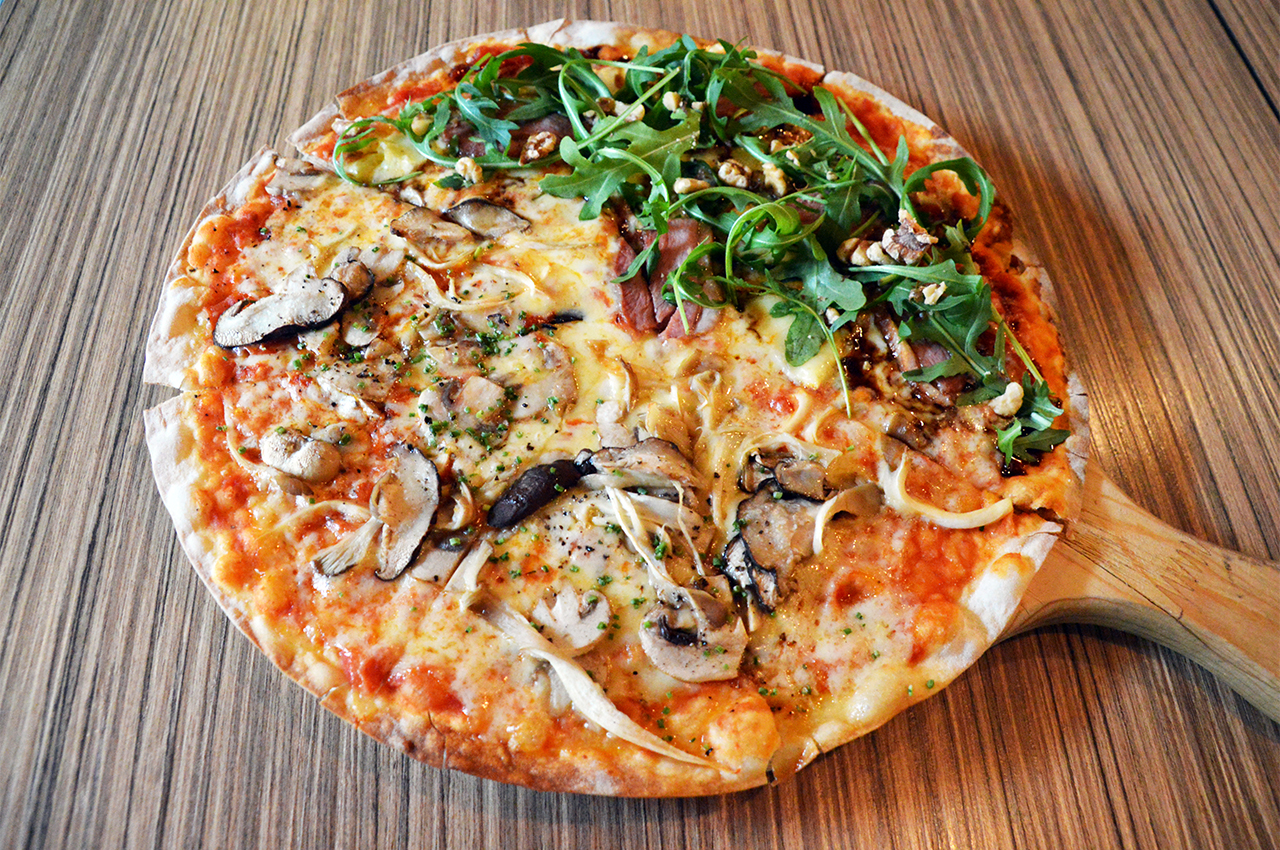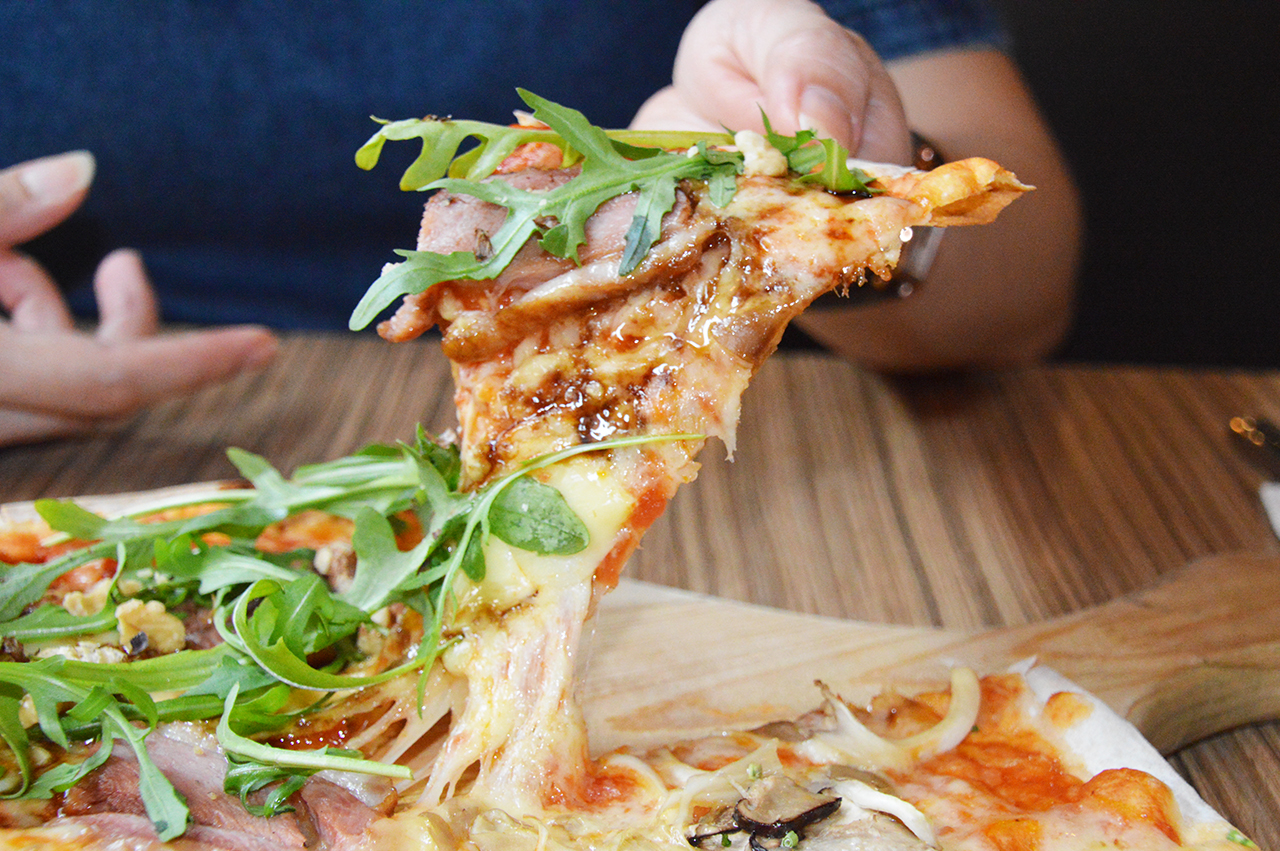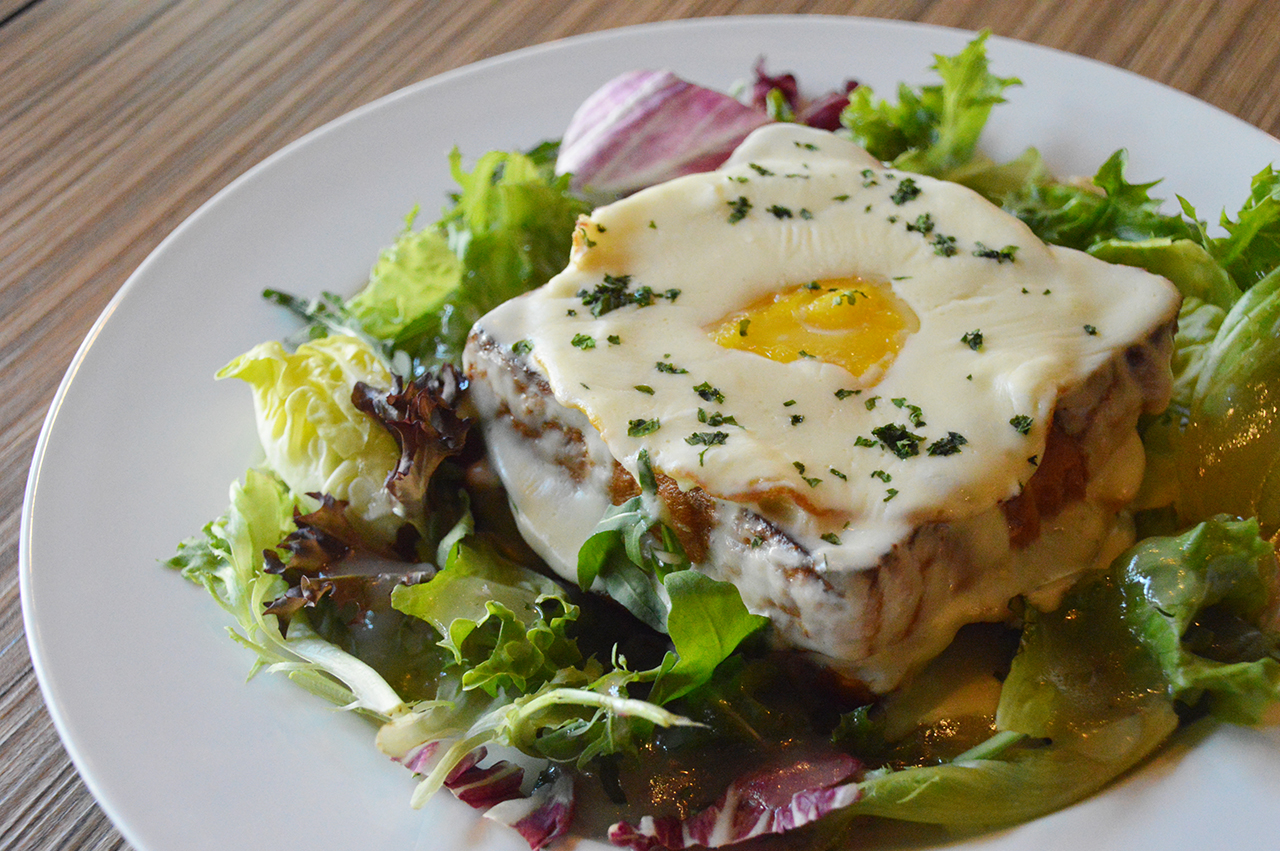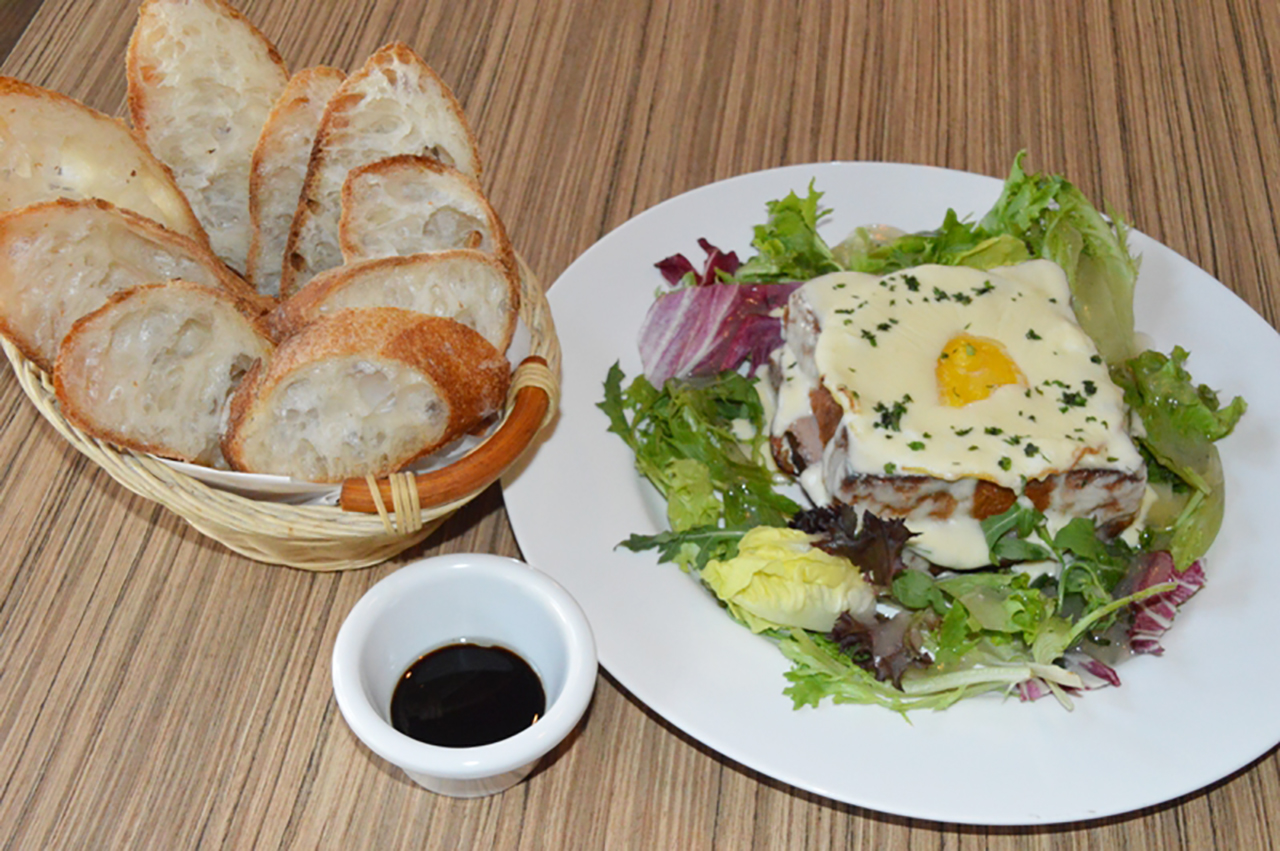 For main-course, we ordered a Black Angus Striploin and an Oven Baked Chicken Breast. Perfect for steak lovers, the steak was tender and had a pinkish colored center and was served with bacon and lemon thyme sauce. Slices of the steak with the sauce was chewy and juicy and tasted slightly salty and airy peppery. The Maitre D' suggested us to pair the steak with a red wine selected from B-Lab's wine list. It was an exceptional pairing allowed us to savor the bold rich flavors from the steak. Remember the general rule – the leaner the red meat, the lighter the red wine you can use.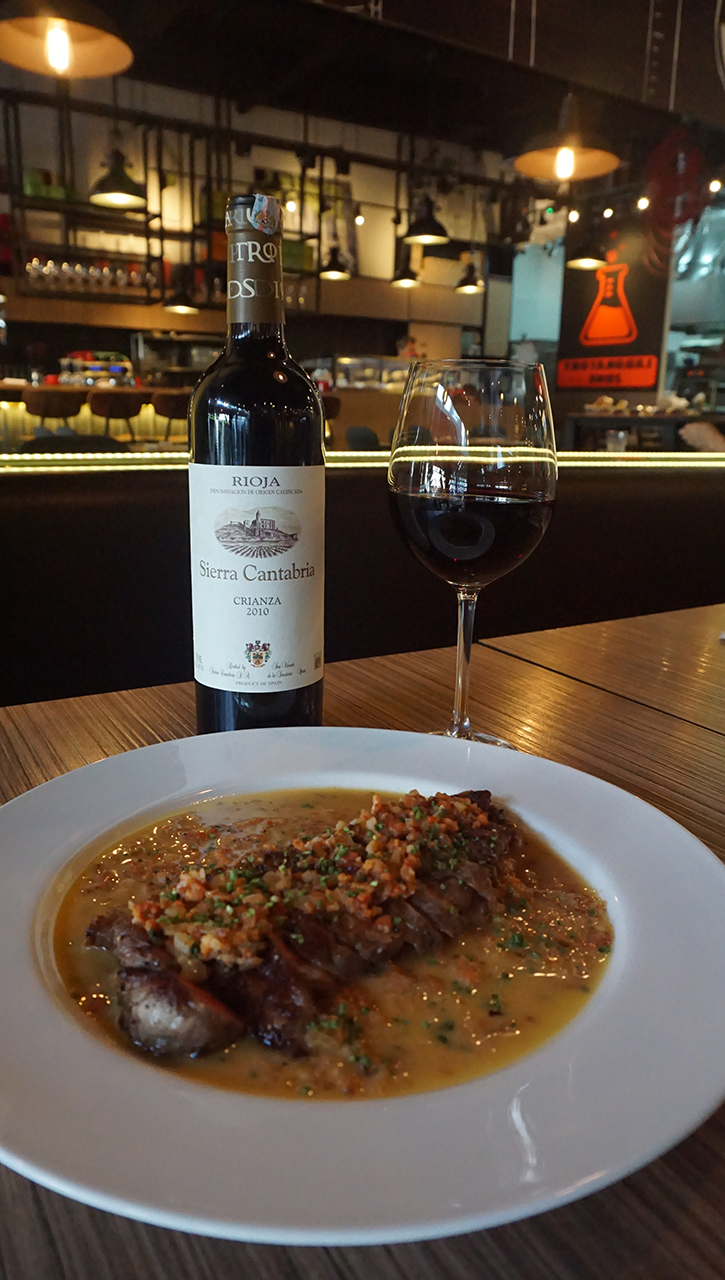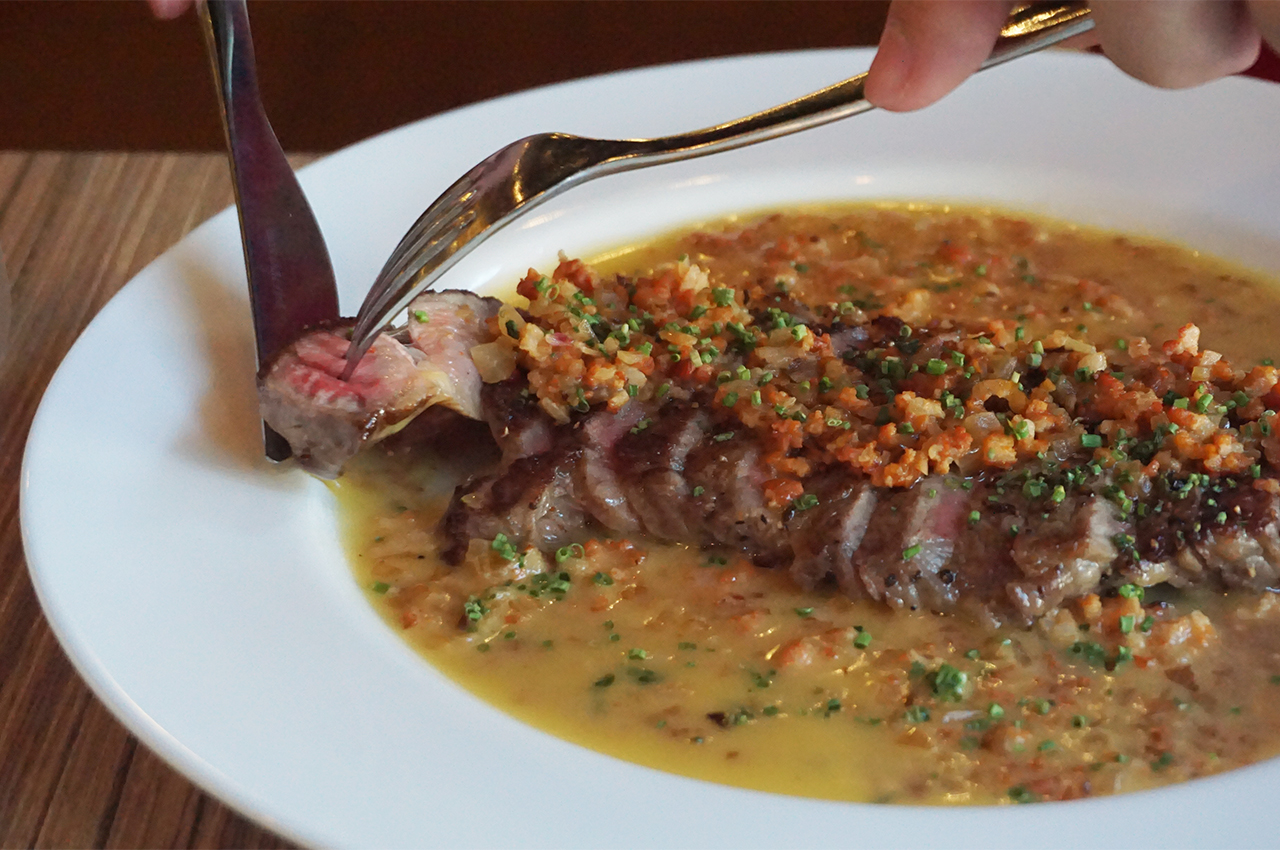 The perfectly baked boneless chicken breast was served with a mushroom-based sauce which had hints of mild honey, wild mushrooms and fresh herbs. The chicken breast was surprisingly tender, juicy and succulent which was most enjoyable compared to the common dry, hard and flaky chicken breasts.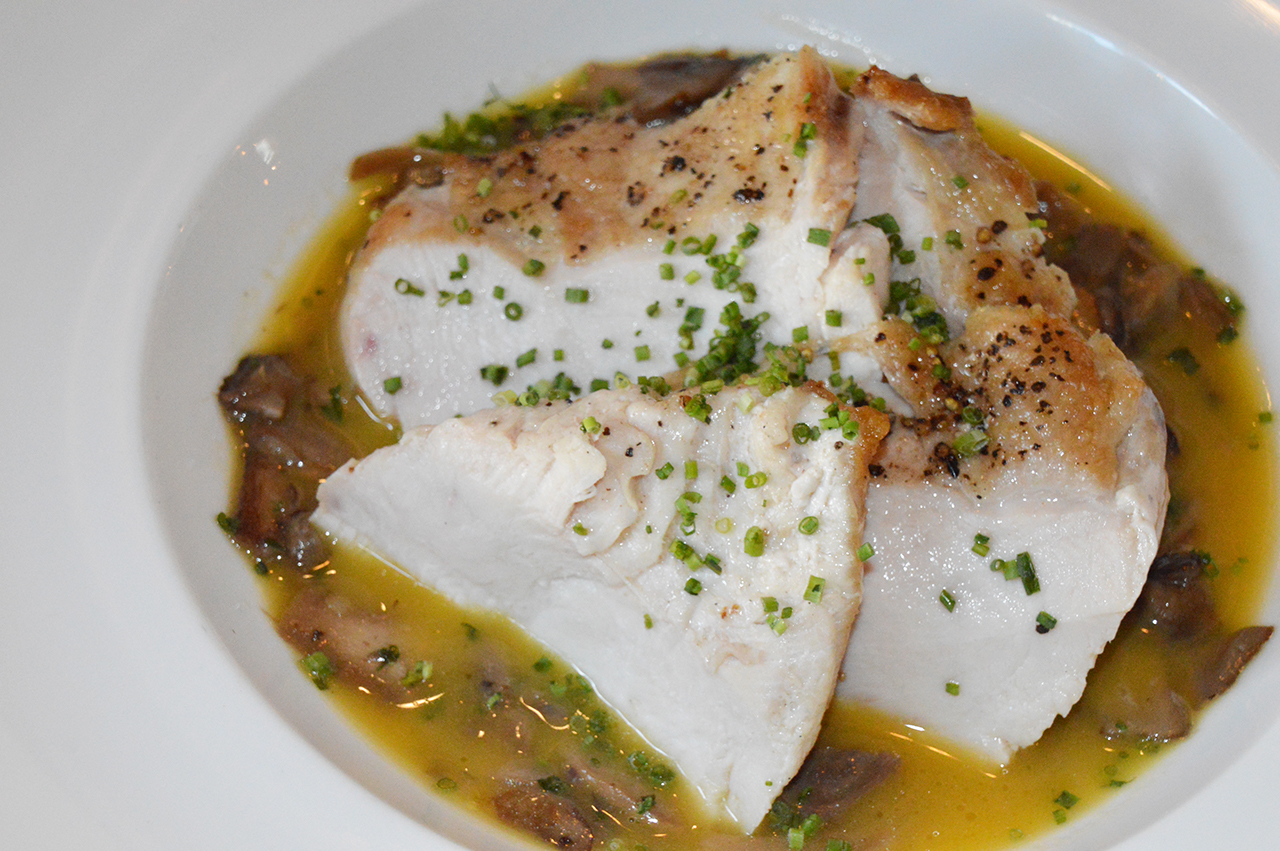 Some of the other dishes which we did not had a chance to sample but would definitely return for are the B-Lab Signature Club Sandwich decked with a slice of smoked sticky bacon and honey-baked ham; Jamon Iberico and Golden Lily Salad featuring Spanish ham, mango and pistachio on a bed of arugula dressed with virgin olive oil; the popular Pressed Pork Belly; and the evergreen Pan Seared Salmon Steak.
To finish the meal and absolutely not to miss – B-Lab's tantalizing sweet treats, such as fluffy short slice, divine chocolate, Japanese themed cupcakes with light fluffy sponge, and cream puffs.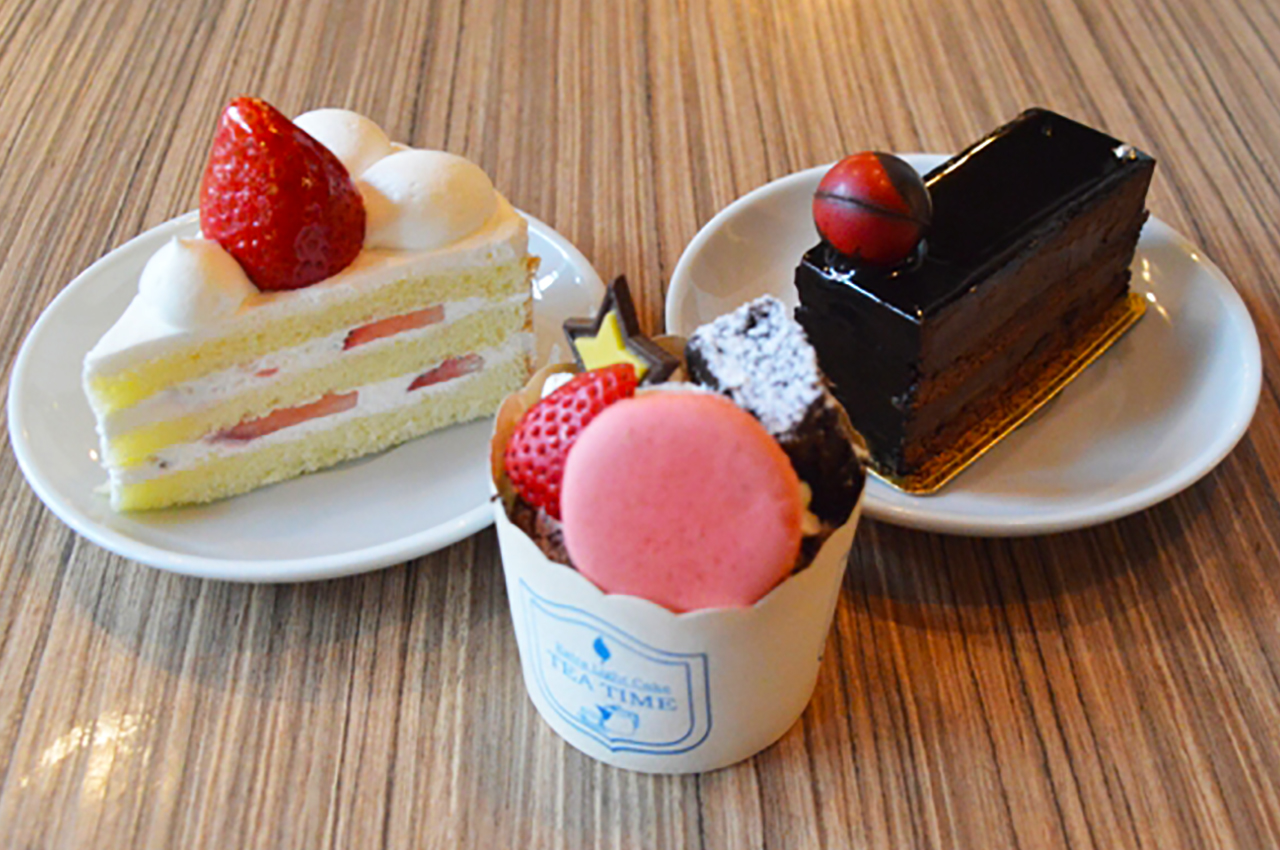 The Man Behind B-Lab
B-Lab has become popular among not only the expatriate residents especially the Japanese and the local residents around Mont Kiara, but also the food hunters/lovers from across Klang Valley. Since its inception in October 2013, B-Lab has been receiving overwhelming response from their patrons for the foods they served. Much of B-Lab's success can be attributed to the man behind the name – Yukichi Matsubara, and his commitment and passion to the quality of both food and service.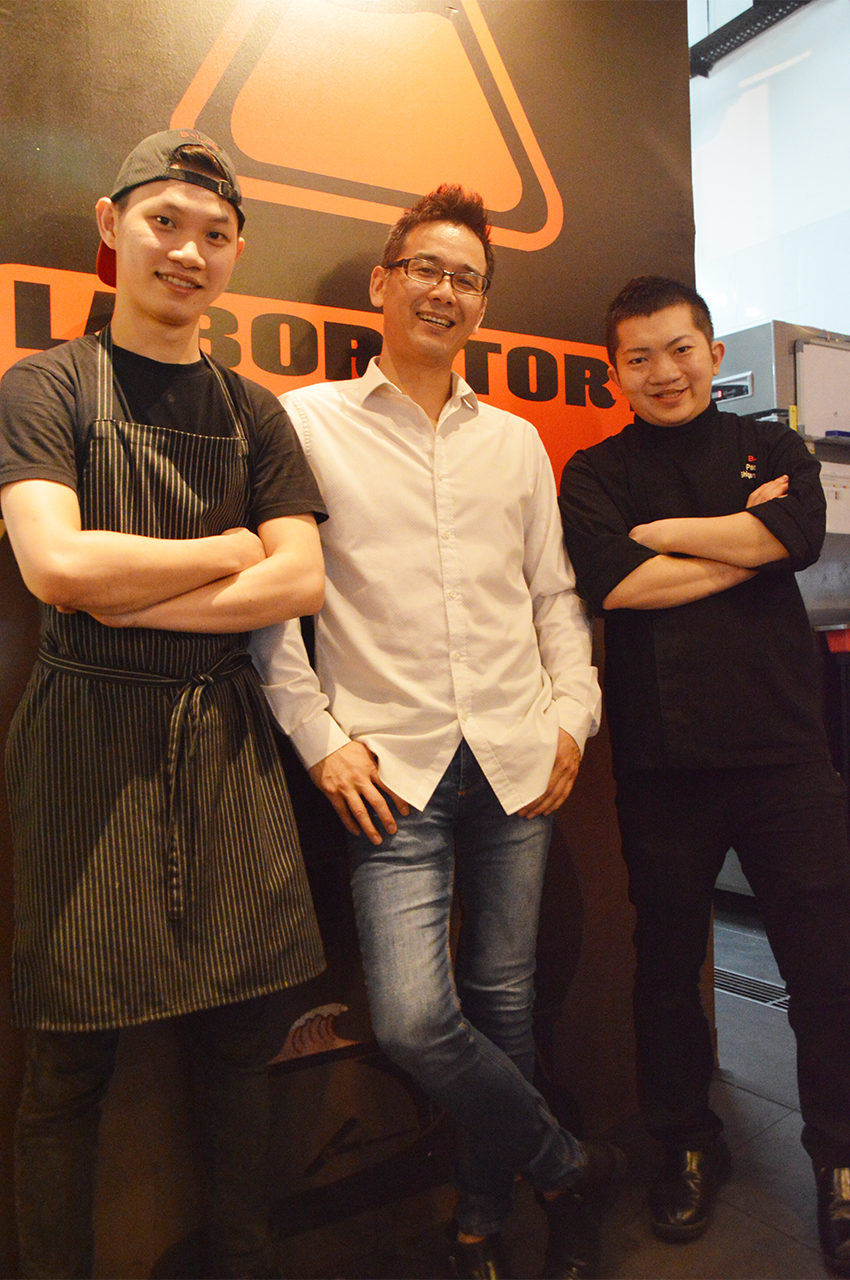 Yukichi Matsubara, famously known as the former master chef of The Loaf Bakery ("The Loaf") & Bistro and Bonjour Garden Bakery Café ("Bonjour Garden") under Jaya Grocer, is a Kobe-born who had been determined to be a Bakery Chef since the time he left high school. He received his early bakery training while employed at a famous western bakery in Tokyo, Ginza Kimuraya, at his 20s for a period of nine years. Later he went to France to further master his skills at a top-notch bakery in Paris, Boulangerie Au 140 for a year and returned to Tokyo the year after to become Chef Baker at Patisserie Madu.
In 2006, Matsubara was offered to become a three-month Consultant for The Loaf's first store in Langkawi. He was later offered a permanent position as Master Chef Baker by The Loaf in 2007 for their expansion in Kuala Lumpur. He turned down the offer initially due to he was in the midst of setting up a joint-venture bakery business in Tokyo at that time, and also his unwillingness to leave his own country. After several approaches by The Loaf and the encouragement of his father, and also due to his joint-venture plan was aborted before being implemented, he finally took on the offer and started his bakery career abroad in Malaysia.
After working at The Loaf and Bonjour Garden, respectively for several years, Matsubara decided to start his own eatery venture with the support of his wife, Zenn Lim who is a local Malaysian. Tapped on his rich experience in the industry, Matsubara decided to set up an all-day eatery combines bakery, bistro and bar to cater to different crowds, and chose to set foot in Mont Kiara where houses a significant community of foreign expatriates especially the Japanese, who is one of their main target customers initially.
Matsubara is supported by a dedicated team of chefs, including esteemed Japanese Pastry Chef Shigeru Hashizume who has worked under him at The Loaf and Bonjour Garden, in charge of daily fresh pastries and other desserts, and local chef Khoon Sen, the Chef de Partie who helms the bistro's kitchen section. Due to the long operating hours of the eatery, B-Lab has over 20 chefs and attendances working on two shifts.
B-LAB BAR + BISTRO + BAKERY
Verve Shops Mont' Kiara,
G-3A Level G, No. 8 Jalan Kiara 5,
50480 Mont' Kiara, Kuala Lumpur
Tel/Fax          : 03-6206 1880
Website:       : www.blabrestaurant.com
Opening hours:
Weekdays 7am – 10.30pm
Weekends & Public Holidays 7am – 10.00pm