While Singapore may be trending at the moment thanks to its stint in Crazy, Rich, Asians, but beneath the glam and street food, Singapore is also known for its zoos and wildlife parks! I was given the opportunity to explore the four parks under Wildlife Reserve Singapore, Singapore Zoo, River Safari, Jurong Bird Park, and Night Safari recently and I have so much to share about each of these places.
You can't miss exploring these four parks with your loved ones! I'm going to kick start the 4-part series on why you should visit each park with the award-winning, Singapore Zoo.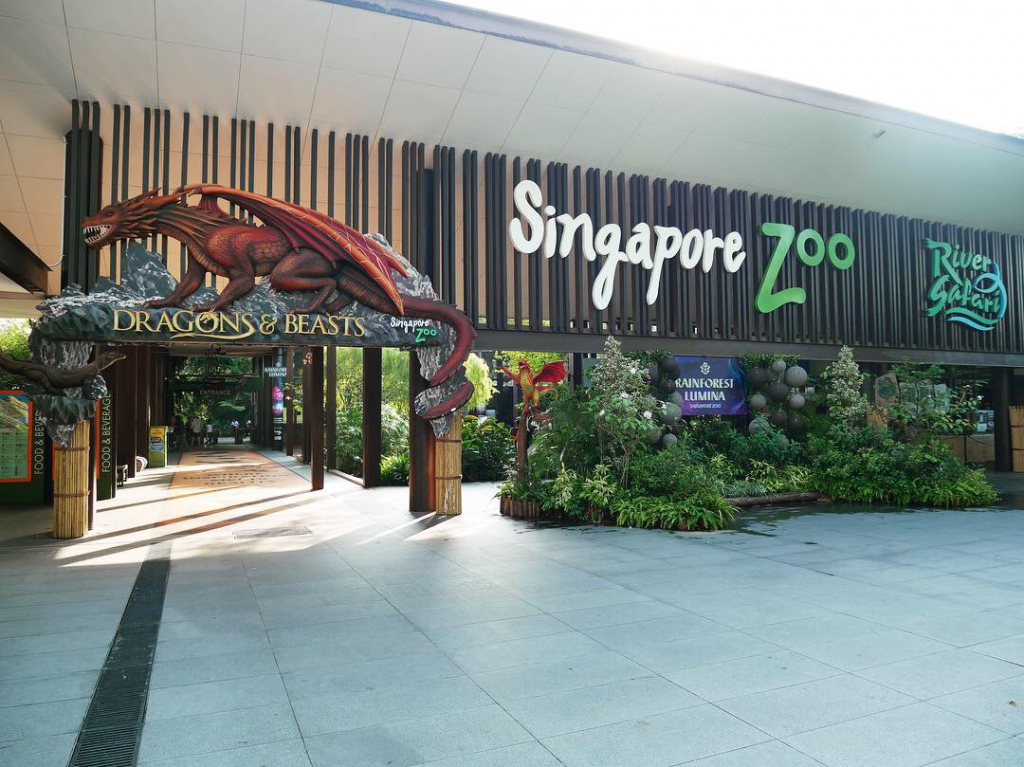 With approximately 1.9 million visitors annually, the Singapore Zoo spans 26 hectares, housing over 2,400 animals from over 300 species and is renowned internationally for its "Open Concept" rainforest environment, conservation initiatives and breeding programmes. The zoo also opened the Wildlife Healthcare and Research Centre in March 2016 that features a viewing gallery that allows visitors to observe the animal surgery and treatment area and interactive displays to educate them on the work of the zoo vets.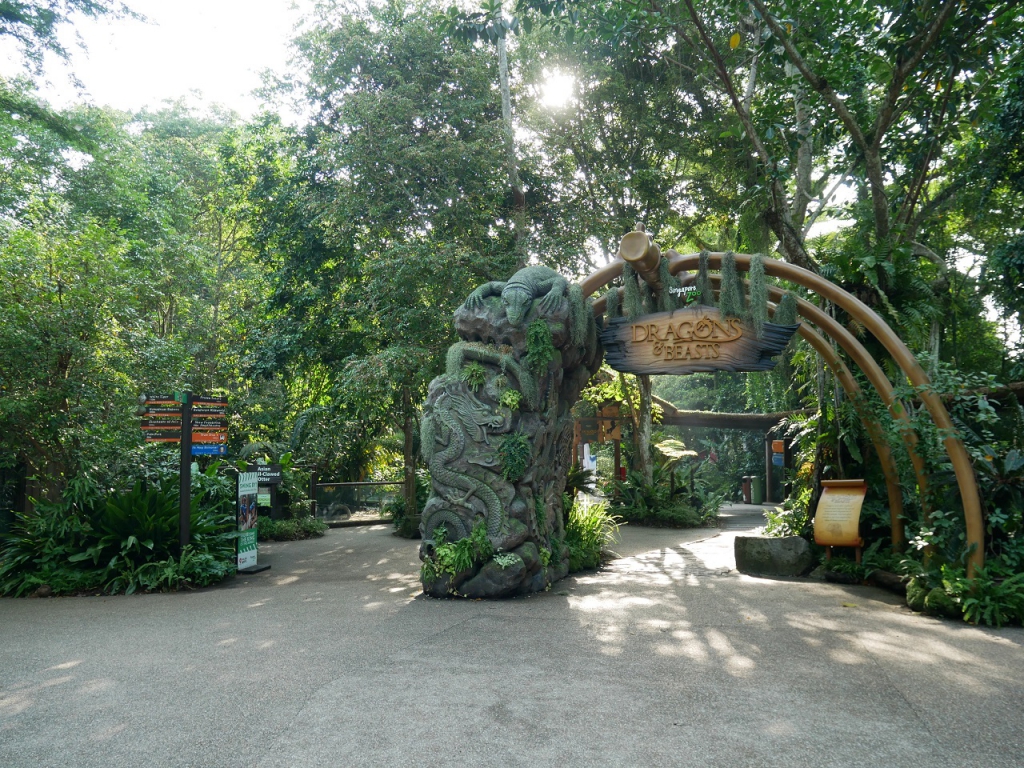 See some of the action on our Instagram Stories Highlights.
Here are 5 Reasons To Visit Singapore Zoo:
1.Having Breakfast With The Orangutans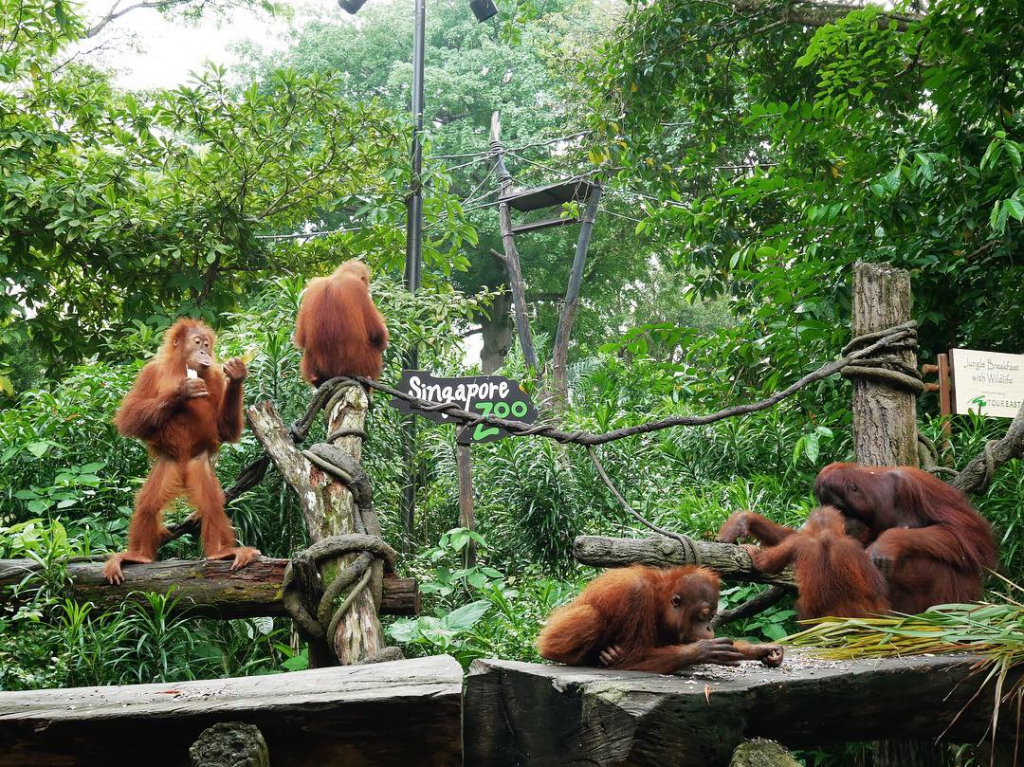 This is your chance to dine with the VIPs of the Singapore Zoo, the Sumatran and Borneo Orangutans thanks to the zoo's popular and award-winning Jungle Breakfast with Wildlife programme where you'll be able to enjoy a buffet breakfast at Ah Meng Restaurant's Terrace while the Orangutans are having theirs on their pedestals at the same time. Though you can't share your food with them but you can still grab a photo with them as they're having their breakfast.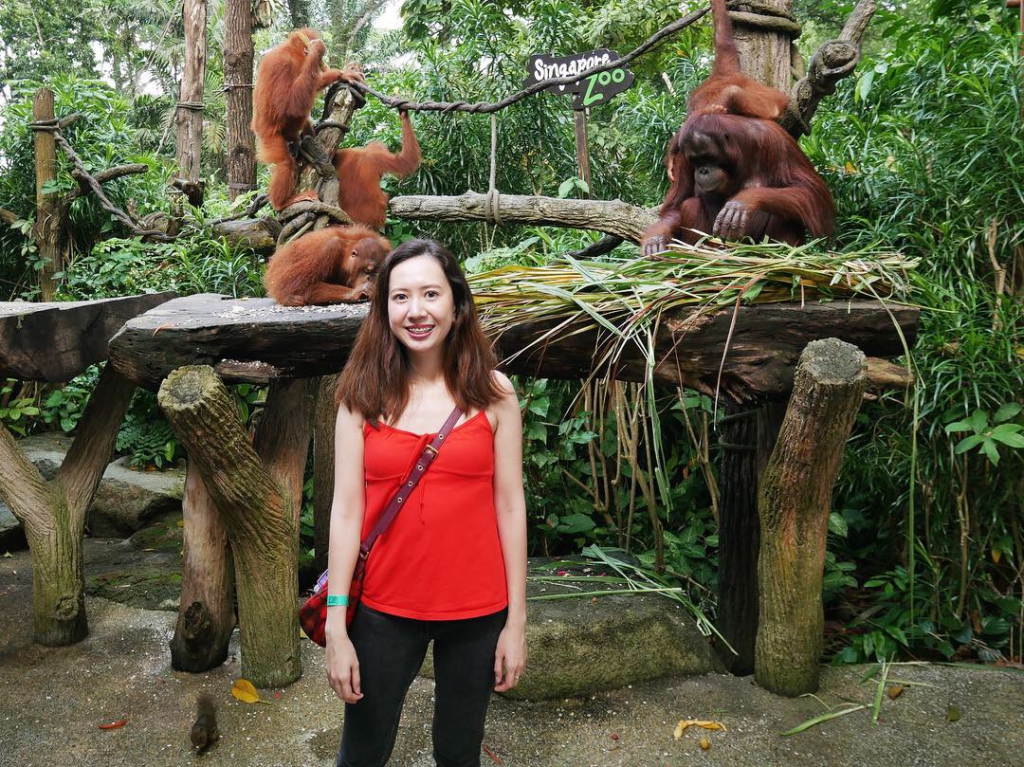 It's an interesting way to see them up close and learn more about these majestic creatures. You might even spot them at other parts of the zoo because Singapore Zoo has the world's first free-ranging orangutan habitat in a zoo, there are specially-made branches and walkways just for them to wander around, to resemble it as close to its natural habitat. Sometimes, you might get some special guest like this milky snake to make breakfast time even more exciting.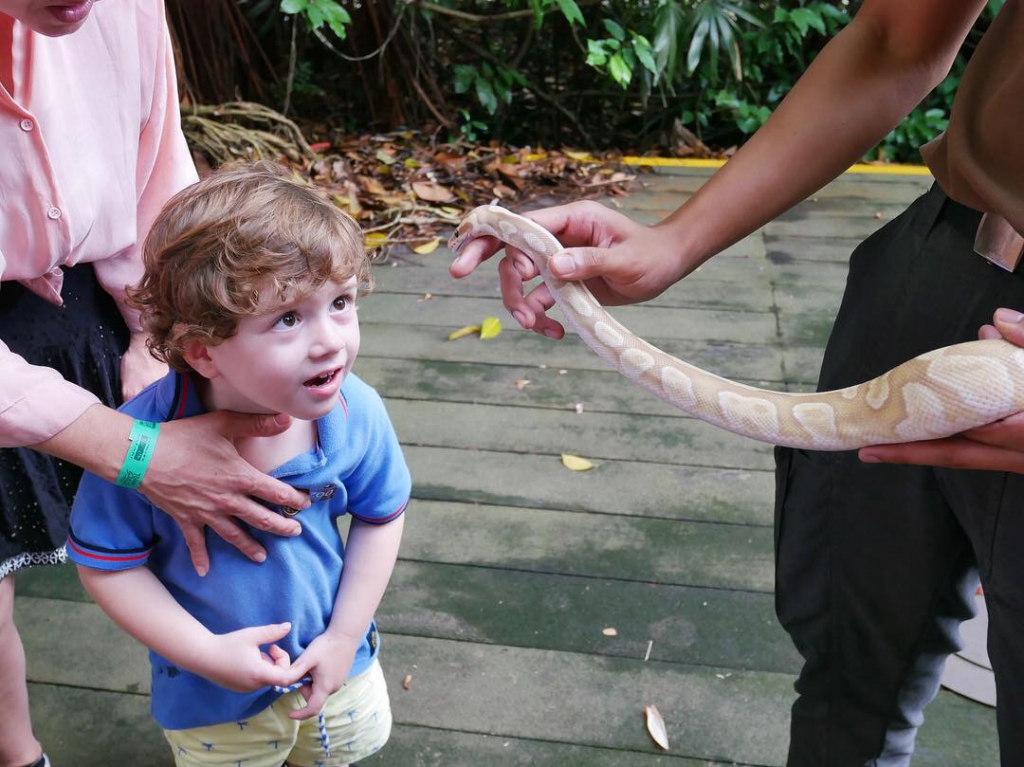 2.Go Behind The Scenes With Reptiles At The RepTopia Tour
They may seem creepy and scary but you'll learn to love them reptiles as you get acquainted with some of the zoo's snakes, bearded dragons, frogs, and more during the RepTopia Tour. You're brought behind-the-scenes in the research centre where you'll learn about the different species and have hands-on experience after the safety briefing.
It's one of my favourite experiences at the zoo and I highly encourage everyone to pay those extra dollars! You'll get to feed some reptiles and if you're feeling brave, let them crawl on your arms too. I embodied my inner Cleopatra and wore the beautiful python as an accessory for a while.
3.Feed the White Rhinos & Giraffes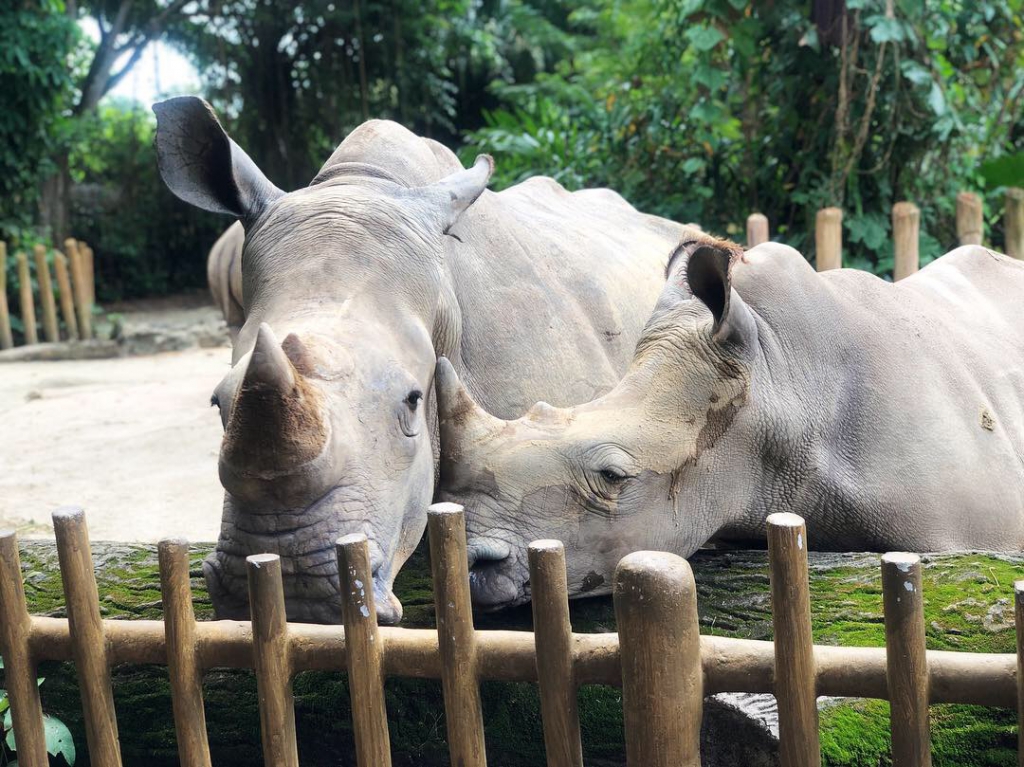 Another way to get a little closer to some of the zoo's animals is by going for its Feeding Sessions. Take note of the Feeding Times of the selected animals, then pay a small fee to buy the snack provided to feed them.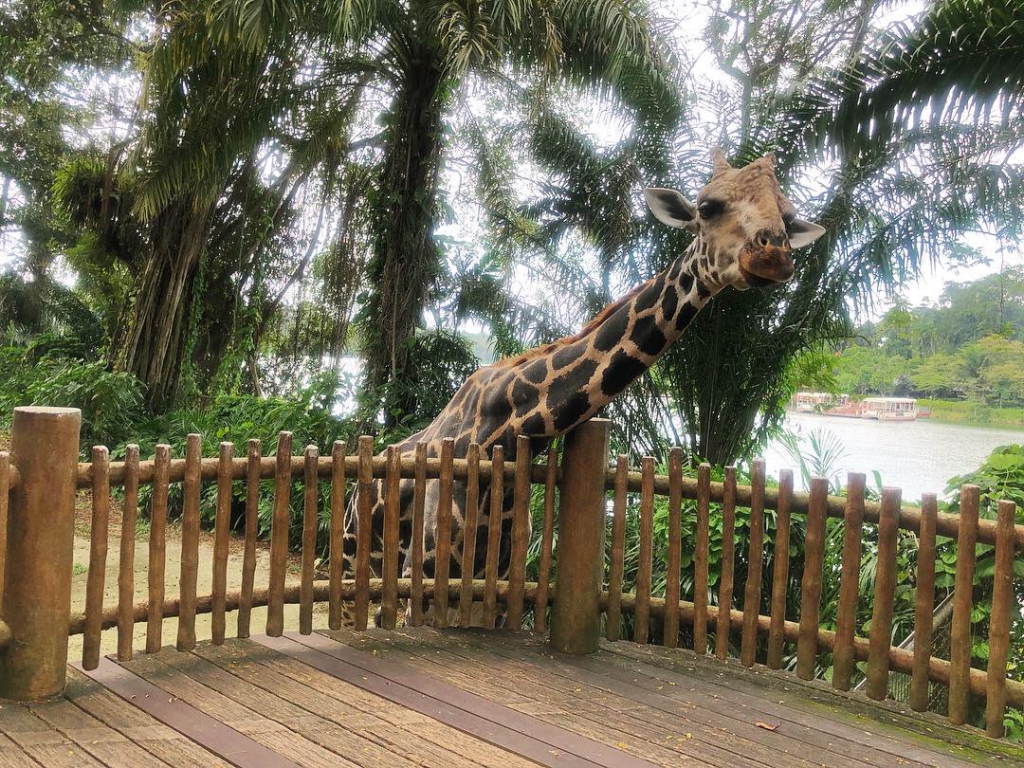 I got to feed Marco the Giraffe who was much excited for his snack and the White Rhinos which I found out, they don't have front teeth so you don't have to fear of putting its snack closer to its mouth. You could also feed the Goats and Elephants.
4.See Other Unique Animals
It's a huge zoo with so much to see! From white tigers, ostriches, and cheetahs, you will discover a new species for sure. There's also the Fragile Forest where you'll be surrounded by numerous species of butterflies, birds, lemurs, and more in the 20,000 cubic metre biodome that mimics a tropical rainforest habitat. You'll definitely meet these cute critters at every corner.
Check out the map to plan your itinerary at the Singapore Zoo.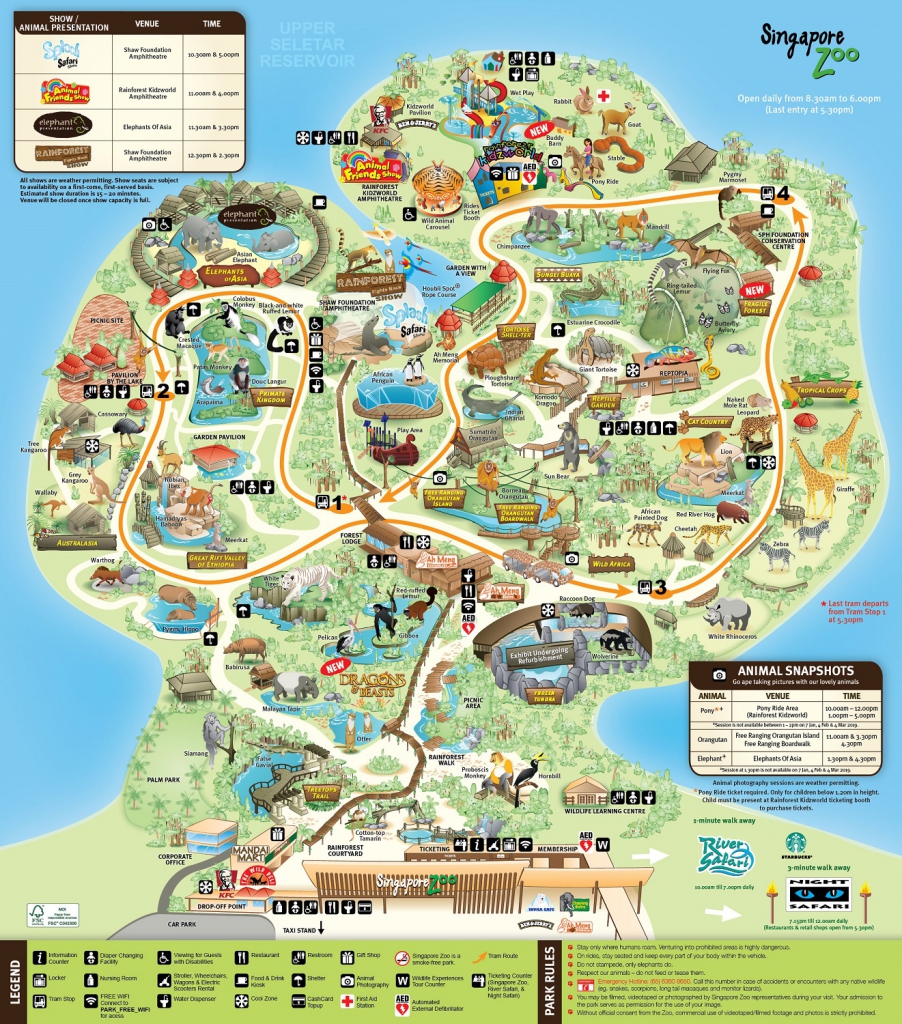 When evening comes, you could also…
5.Visit The Enchanting Rainforest Lumina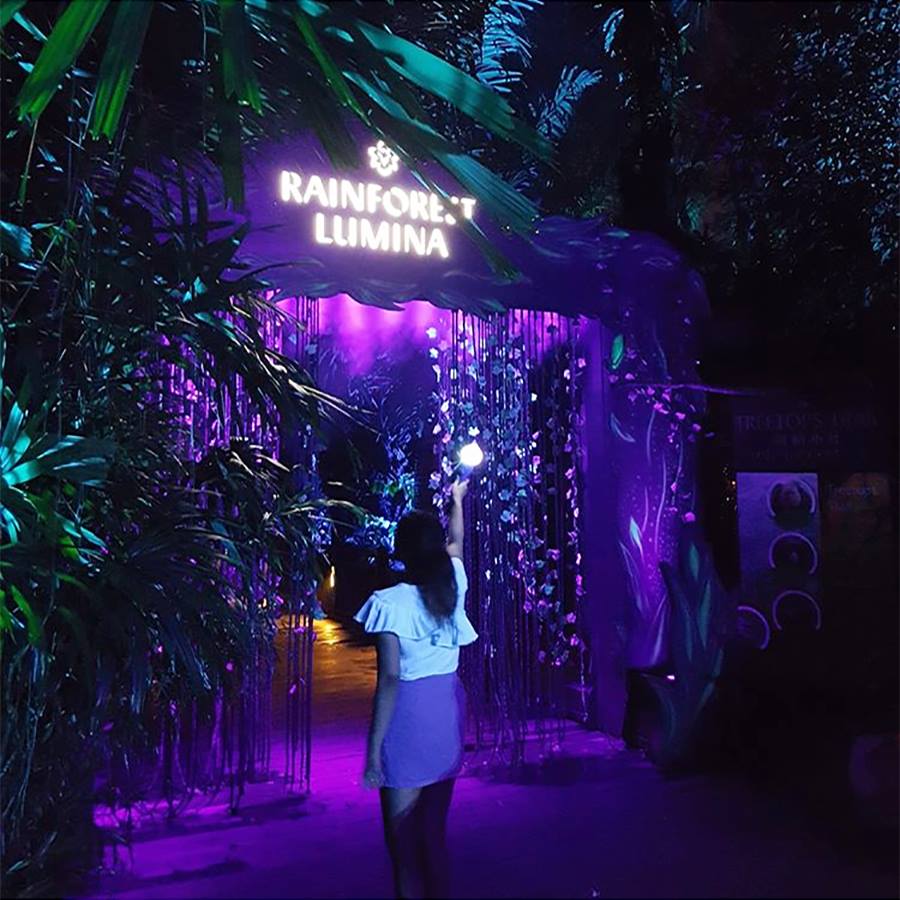 When night comes, the Rainforest Lumina awakens. Skip the mad traffic and explore the Singapore Zoo at night as it transforms into a forest of illumination!
The Rainforest Lumina attraction was unveiled in celebration of Singapore Zoo's 45th birthday and is a first in Southeast Asia. This exciting collaboration between Singapore Zoo and Moment Factory uses immersive technology to give visitors a fresh experience while sending a call to everyone to come together and protect and preserve wildlife. Join the Creature Crew, a quirky group of unlikely heroes made up of the Orangutan, Flying Fox, Sloth, Chameleon, Asian small-clawed Otter, Pangolin, Hornbill, and Tiger cub, with their motto, "We Are One," meaning every species has the power to give back to the rainforest as you discover their enchanted world.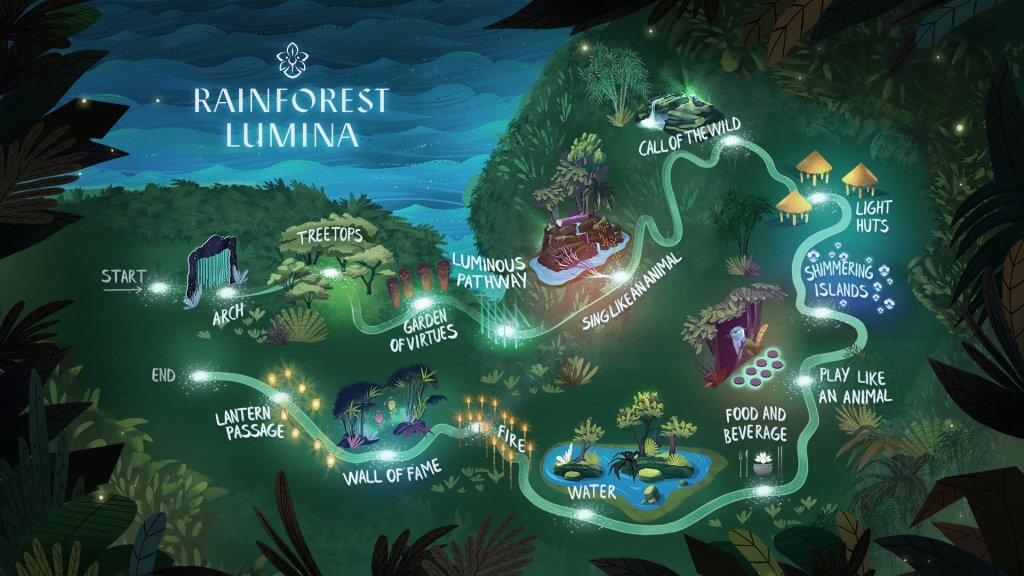 This 1km long trial, consisting of 11 zones, is only running till today, 19 February 2019 so you have to check it out, stat! Also, the animals will be relocated to its quarters so no animals will be affected or harmed in any way.
Other than the pretty lights, there are a few interactive spots along the path to let you tap in your inner animal spirit.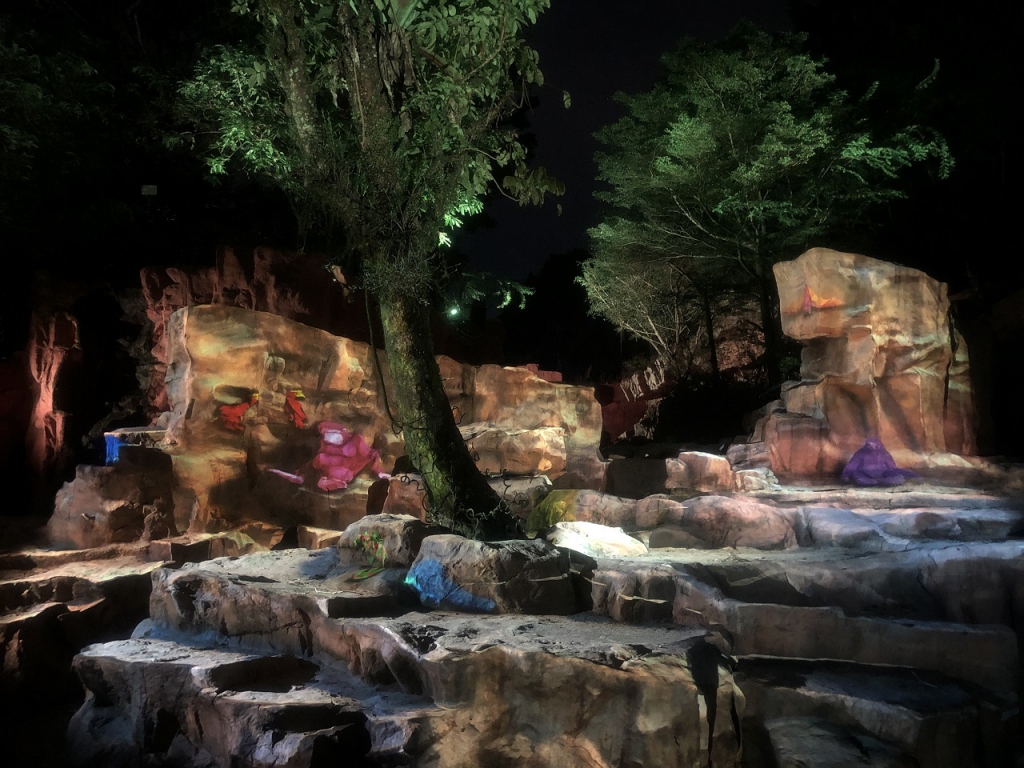 Over here, you get to choose a wristband according to the animal that you like or the spirit that resonates to you. I choose the Sloth as my spirit animal for its 'Patience'.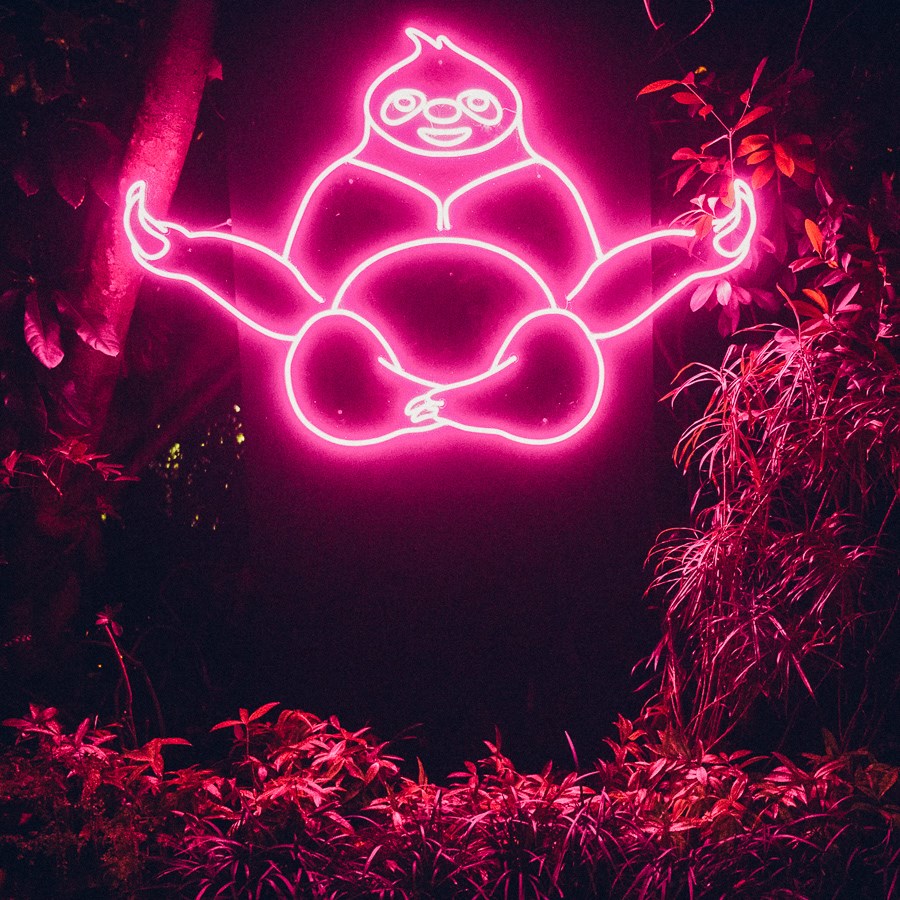 Try singing your hearts out to see which animal you'll illuminate or jump to make the animals appear!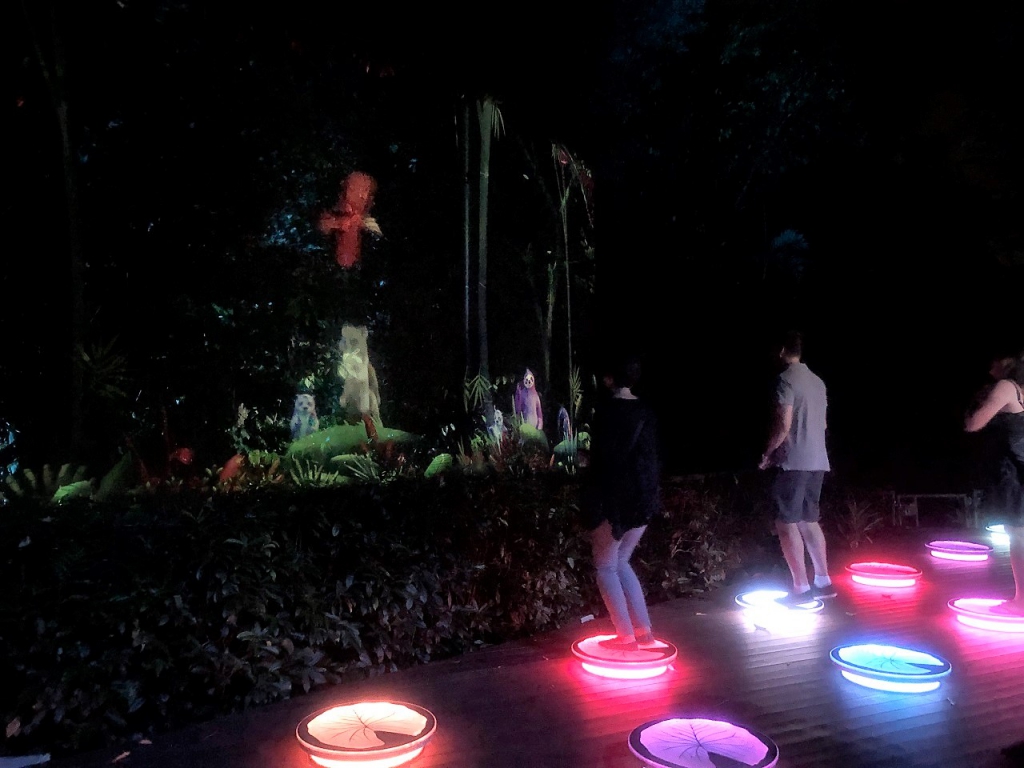 Before you head home, snap a photo to remember which you can download at the link provided on your wristband. The prices for Adult Tickets are S$22 and for children ages between 3-12 are S$16.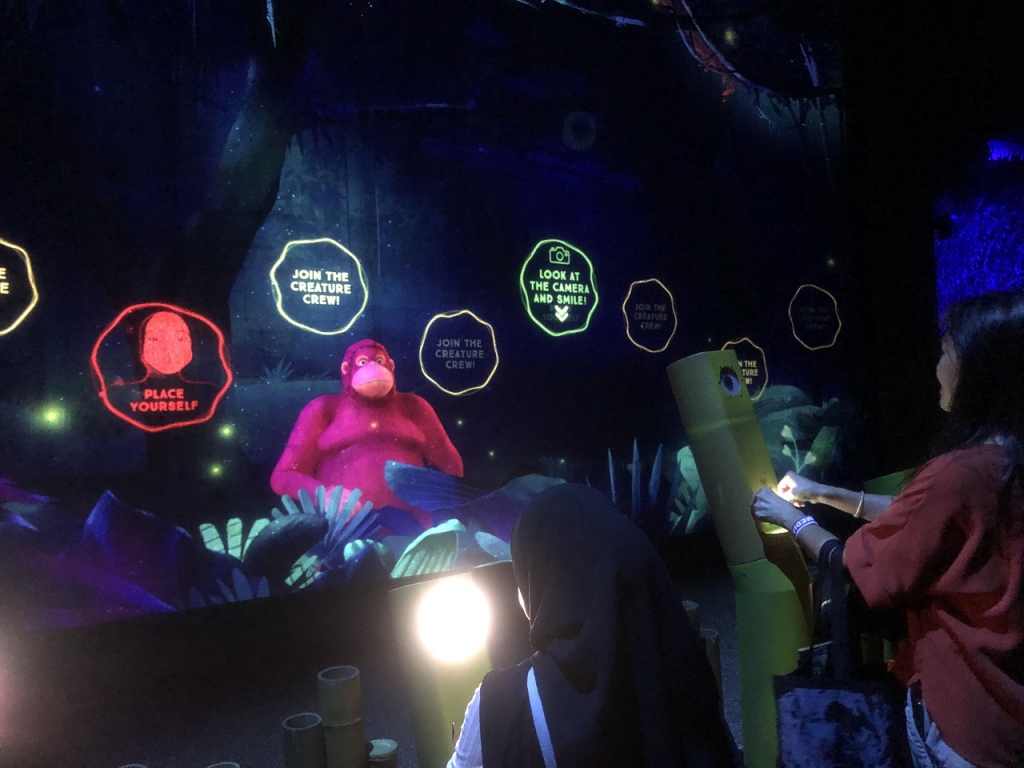 Who said you can't spend an entire day at the Singapore Zoo?
Stay tuned to Part 2 where we visit the River Safari!
For more info, visit www.wrs.com.sg/en and get your tickets online for more savings here.
Follow Wildlife Reserve Singapore on Facebook and Instagram for the latest updates on its parks.
Read also: #PamperMyTravels: An Unforgettable and Fruitful Trip to Singapore