HUAWEI has launched the new HUAWEI nova 4 in Malaysia with a star-studded launch with the attendance of some of Malaysia's top celebrities such as Wany Hasrita, Hael Husaini and Naim Daniel, as well as nova Malaysia's ambassador, Hannah Delisha.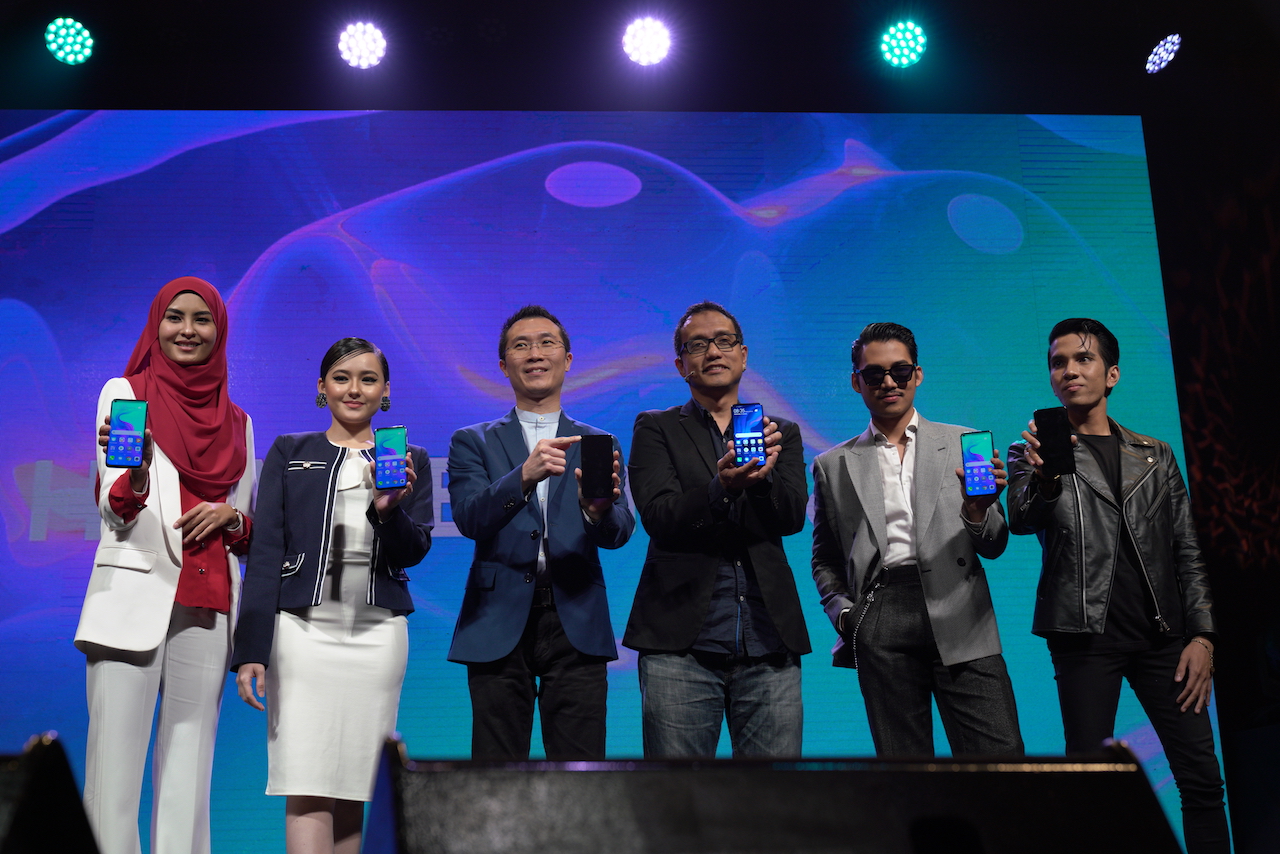 Developed with the needs of youth in mind, the Huawei nova 4 is set to be the trendy choice for Malaysian youth as it's equipped with Huawei's latest technologies such as Punch FullView Display, AI features, AI photography, AI-gaming and AI-video – an intuitive life empowered by AI is made possible with the Kirin 970.
Moreover, the Huawei nova 4 has received positive acclamation from Malaysia's well known celebrities such as Wany Hasrita, Hael Husaini and Naim Daniel, highlighting that this is the 'Best smartphone to get in 2019'!
Specifications and Features
The HUAWEI nova 4 is equipped with the industry's smallest 25MP under-display front camera, measuring 3.05mm in diameter, as well as a Triple AI Camera on the rear, featuring a high resolution 20MP primary camera, a 16MP ultra wide angle camera and a 2MP bokeh lens.
Following the HUAWEI P20 Pro and HUAWEI Mate 20 Series, the HUAWEI nova 4 is HUAWEI's first nova product to feature a Triple AI Camera and ultra wide angle lens. This smartphone features a triple-camera module consisting of a 20MP primary camera and 2MP secondary camera, complemented with a 16MP camera augmented with ultra wide angle lens. The primary lens captures images with a high-end sensor whose pixel size is 1.0µm with better performance to capture the light. It also supports hardware-level background bokeh effect to highlight the subject, benefitted by the 2MP lens.
Equipped with an ultra wide angle lens, the 16MP camera supports a 117-degree field of view. After adjusting for distortion, its performance is equivalent to a 103-degree 17mm wide angle lens, capturing 2.4 times more information compared to 78-degree wide angle lens. Together, the 20MP high resolution camera and 16MP ultra wide angle lens makes the HUAWEI nova 4 the perfect device for capturing endless plains or sprawling metropolis that stretch towards the horizon.
The HUAWEI nova 4 sports a new generation 6.4-inch Punch FullView display – the first ever to be sold in Malaysia. A culmination of years of experience in premium design, craftsmanship and high technology, the Punch FullView display takes bezel-less displays to new heights with a minimalist blind hole opening for the 25MP camera. This design allows HUAWEI to eliminate the notch and achieve a screen-to-TP ratio of 91.8 percent, which makes for a truly natural and stunning viewing experience.
The 25MP front camera under the Punch FullView display is the industry's smallest camera, measuring at only 3.05mm – 20 percent smaller than the current industry standard. The opening on the display is a blind hole, meaning the screen is not completely punched through. From assembly (sub-0.1mm margin of error) to adhesive application, the precise manufacturing processes minimise the light leakage from the edges of the blind hole. Additionally, HUAWEI optimised the light transmittance performance of the blind hole so it is on par to a through hole.
The new HUAWEI nova 4 fully utilises the hardware processing power and AI computation capacity of Kirin 970's NPU to deliver a powerful and smart video editing experience. After taking a video with the HUAWEI nova 4, users can activate the automatic footage analysis with one tap. This innovative feature leverages the smart aesthetics scoring engine. Trained with 60,000 basic models as well as one million facial models generated through facial recognition, the feature can automatically process and edit footage.
Apart from that, the HUAWEI nova 4 also supports a new generation of GPU Turbo. This technology greatly enhances the graphics processing efficiency of smartphones by optimising the clock speed and power consumption of the chipset, allowing the HUAWEI nova 4 to deliver an accelerated, top framerate experience even when running premium mobile games.
Furthermore, the GPU Turbo will serve as the foundation augmenting the core features of HUAWEI devices. It not only allows EMUI and application-layer graphics to run smoother, and supports nascent technologies such as AR and VR – it also endows the HUAWEI nova 4 with limitless potential.
The HUAWEI nova 4 is equipped with 8GB RAM + 128GB ROM and over-a-day 3,750mAh battery life. It is available in two fashionable colorways in Malaysia: Crush Blue, evoking a sense of mystery with a tinge of romance; and Black, which exudes understated class.
Pricing and Availability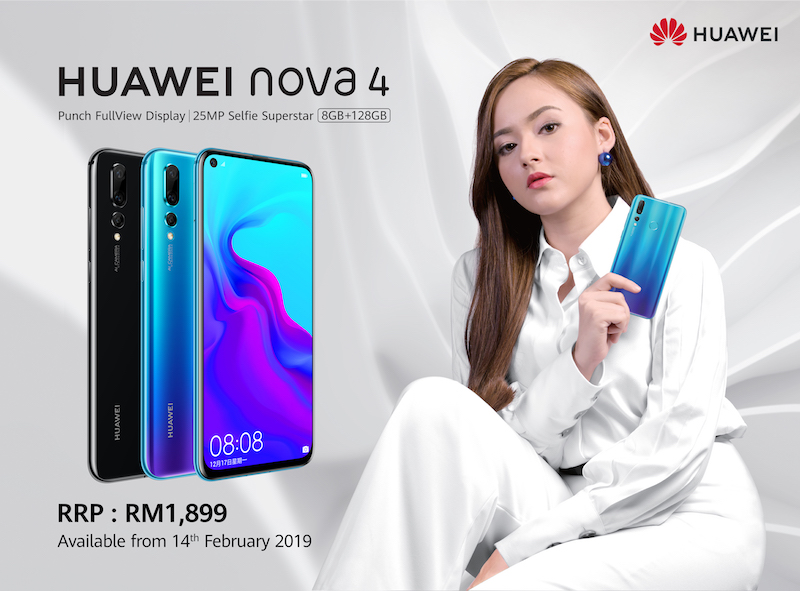 The HUAWEI nova 4 will be available in Malaysia starting 14 February 2019. Retailing at the attractive price of RM1,899, the device can be purchased at all HUAWEI Experience Stores, display zones, authorised dealers, and major telco companies.
For more information, visit consumer.huawei.com/my/phones/nova4/ or facebook.com/HuaweiMobileMY.
Read also: HUAWEI nova 3 and 3i Will Be Available in Malaysia on July 28