Malaysian-made music festival, Good Vibes Festival is happening on 20 and 21 July 2019 at The Ranch at Gohtong Jaya, Genting Highlands! with award-winning international artists and much-loved local acts who have taken the world by storm. Now in its sixth year, #GVF2019 will be a weekend filled with good vibes and memorable experiences with award-winning international artists and much-loved local acts who have taken the world by storm. Doors open 3pm onwards on both days. #GVF2019 just revealed its first phase of artists from its stellar line-up that will definitely get you grooving all night.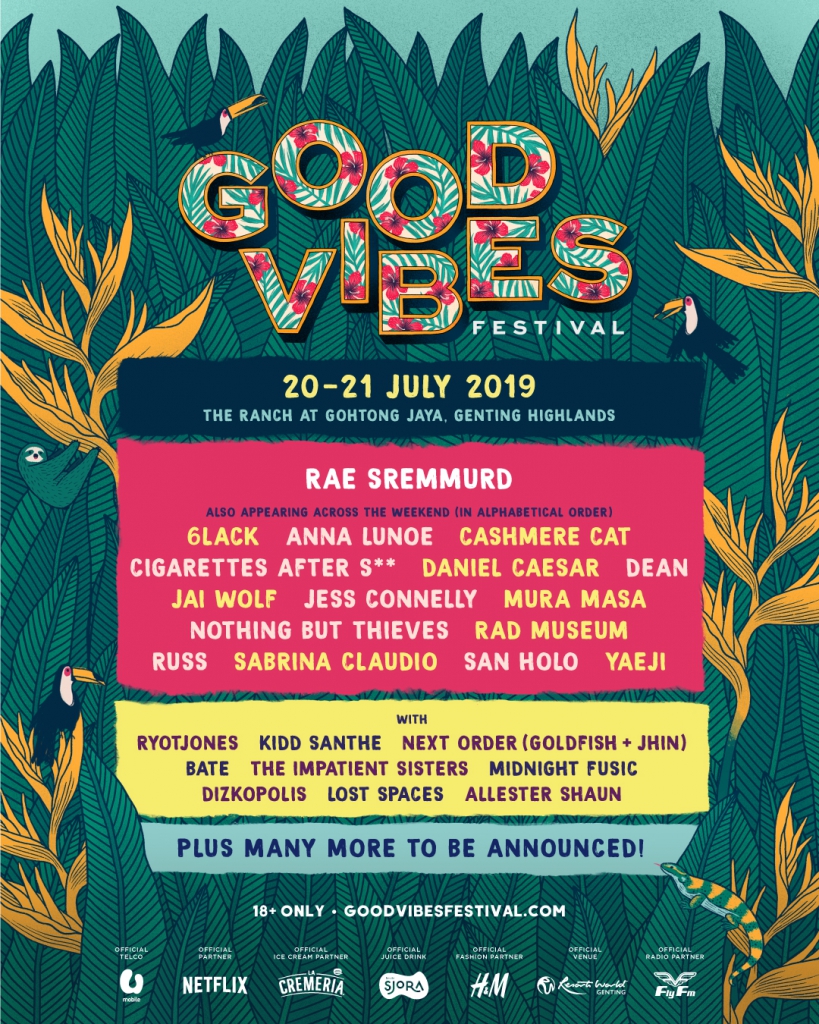 At the top of #GVF2019 bill are hip-hop duo and Billboard's 2017 Top Rap Collaboration winners Rae Sremmurd ("Powerglide", "Guatemala"), known best for their song "Black Beatles" that soundtracked the Mannequin Challenge memes. To follow, the suave Grammy award-winning R&B singer-songwriter Daniel Caesar ("Best Part", "Get You") and the ethereal American ambient pop band Cigarettes After S** ("Nothing's Gonna Hurt You Baby", "Apocalypse"), who revolutionised the dream-pop genre, will each take stage.
In an effort to turn things up for staunch fans of the festival whilst welcoming the new, the #GVF2019 festival grounds will be expanded into an adjacent field housing the new and improved Electric Fields, which will be transformed into the festival's fully fledged third stage that will feature a mix of international and local acts.
Headlining Electric Fields will be Norwegian DJ Cashmere Cat ("Quit", "Trust Nobody") with his blissful, otherworldly sound interlaced with flowing harps, clicking percussion, and contorted vocal samples, and Australian DJ Anna Lunoe ("I Met You", "Stomper"), who is set to drive everyone into a dance frenzy with her chart-topping songs that has won over crowds at Coachella, Tomorrowland, and Lollapalooza.
Always up to give audiences "What They Want", American rapper/singer-songwriter RUSS ("Losin Control", "What They Want"), whose album "There's Really A Wolf" is the first-ever hip-hop album to go platinum without features or production help, is reved-up to blow minds at #GVF2019. British alternative rock band, Nothing But Thieves ("Trip Switch", "Amsterdam") whose debut self-titled album shot to number 7 on the Official UK Chart and topped the Vinyl Album Charts, will make their Malaysian debut.
#GVF2019 also marks first-time appearances by South Korean acts such as alternative R&B singer-songwriter Dean ("D (half moon)", "instagram"), whose 2016 EP jumped to no. 3 on the Billboard World Album Charts and has been likened to a young Usher; and the cinematic and versatile South-Korean producer and singer Rad Museum ("Tiny Little Boy", "Dancing In The Rain") who has made a name for himself in the R&B genre.
#GVF2019 will feature another two artists who have reached the dizzying heights of the Grammys, including Mura Masa ("Love$ick", "Firefly") who took home a gilded gramophone for his single "Walking Away", and Baltimore-born rapper 6lack ("PRBLMS", "OTW")—whose album Free 6lack was nominated in 2018.
Other acts on the bill are Cuban-American Sabrina Claudio ("Belong To You", "Confidently Lost"), who has been steadily winning fans with her sultry voice since her 2017 debut, Korean-American Yaeji ("raingurl", "passionfruit"), known forher music that blends house and hip-hop with dreamy, understated vocals in both English and Korean, and San Holo ("We Rise", "Light"), the Dutch DJ and producer who shot to fame when his remix of Dr. Dre's "The Next Episode"got 190 million views on YouTube in 2017.
Rounding off the list of international artists so far are Jess Connelly ("Turn Me Down", "Wait"), the Australian-Filipino singer-songwriter whose debut album "How I Love" landed her on Spotify's 2017 Artists To Watch list, and Jai Wolf ("Indian Summer", "Starlight"), the New York-based electronic music producer ready to bring his indie rock-synth pop blends to Malaysia.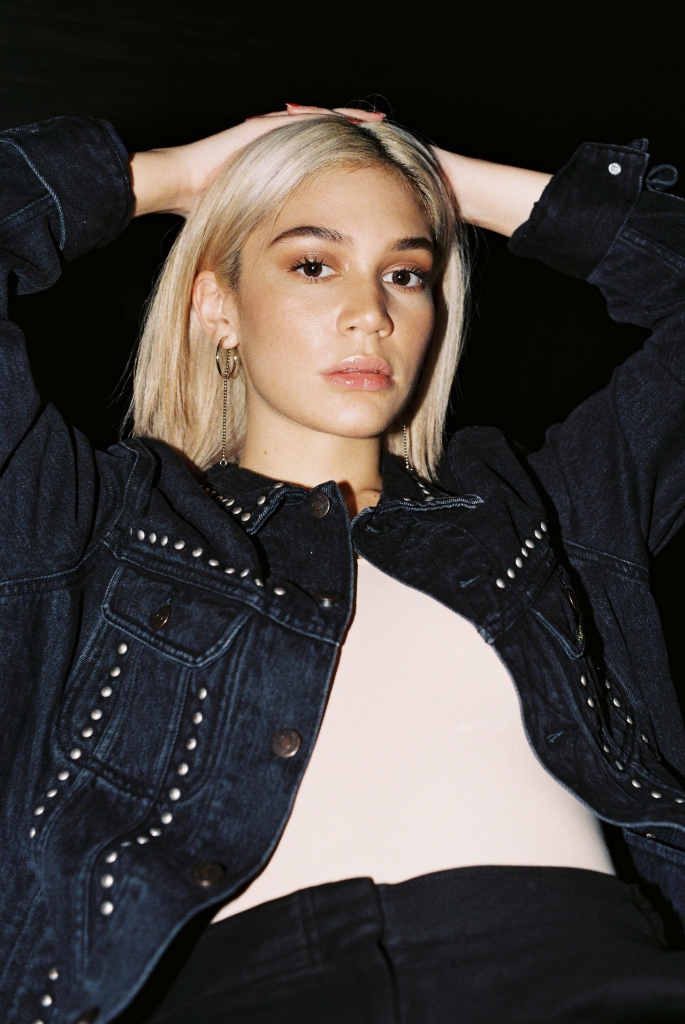 This year's local lineup sees RYÖT JONES ("On My Knees", "Dancing Shoes") bringing their fresh festival funk to the stage, upcoming rap star Kidd Santhe ("Malaysiaku", "Fumakilla"), and NEXT ORDER, a new supergroup by Malaysian DJ veterans Goldfish + JHin, and BATE, the DJ duo who have performed with some of the biggest names in the industry such as Tiësto, Zedd and Calvin Harris. Also featured are indie-folk triumvirate The Impatient Sisters ("Hey There Young Sailor", "Comets and Stars"), Malaysian heartthrobs Midnight Fusic ("When Love Was Around", "Lovesick"), electro duo Dizkopolis ("Work It Out"), indie-pop band Lost Spaces ("boxset.girlfriend", "fake.guitars"), and the sweet, adolescent love tunes of Allester Shaun ("Blue", "Sweet Babycakes"). Stay tuned for more international and local acts that are gearing up to rock the stage at #GVF2019.
For the second year running, the festival will provide a premium VIP experience with perks and amenities that will make for an unforgettable weekend —a designated VIP entry lane, VIP access to the festival on both days, access to the VIP Deck with a raised deck for optimal stage views, an exclusive VIP bar, specially curated VIP vendors, designated toilets, and exclusive front row pit access at both main stages.
General ticket sales start on 26 March 2019 starting with the early-bird ticket phase, with ticket prices increasing in phases as the current phase sells out. VIP tickets and hotel packages will also be made available for purchase on that date.
As with the previous year, U Mobile's #Unlimited Flavours will be presenting Good Bites as part of the festival. This year sees the debut of Netflix as an official partner. Festival-goers will be able to experience their favourite Netflix shows come to life at the festival as curated by the world's leading internet entertainment service.
Good Vibes Festival will also be supported by new partner, Nestlé's La Cremeria as Official Ice Cream Partner and will see Nestlé's Sjora returning as Official Juice Drink. These refreshing drinks and desserts will be readily available for festival-goers to satisfy their sweet-tooths and quench their thirst during the jam-packed weekend.
For the first time ever, Swedish clothing retail giant H&M will be joining the festival as Official Fashion Partner. Festival-goers can expect fun, on-ground activities with special treats in the works for the weekend. #GVF2019 also sees longtime partners FlyFM as the Official Radio Partner, and Resorts World Genting as the Official Venue.
GENERAL TICKETS ON-SALE DATE: Tuesday,26 March 2019, 11:00am.
TWO-DAY PASS:
Early-bird: RM360 NETT
Phase 1: RM390 NETT
Phase 2: RM420 NETT
Phase 3: RM450 NETT
SQUAD GOALS PASS: 5 x Two-Day General Admission Passes: RM1,900 NETT
VIP PASS: Two-Day Pass: RM600 NETT
But, U Mobile customers will be able to purchase Early Bird tickets to Good Vibes Festival 2019, priced at RM360 each,starting from 12pm, 25 March 2019 (Monday), a day before ticket sales open to the general public!
This is the third year that U Mobile is partnering with Good Vibes Festival as part of its Unlimited Grooves initiative.
In addition to the Early Bird tickets, U Mobile customers will also be able to purchase VIP tickets worth RM600 at 10% off during the Pre-Sale. The ticketing benefits do not end there as when Phase 1 ticket sales move to Phase 2 for the general public, U Mobile customers can continue to enjoy tickets at Phase 1 pricing. U Mobile customers need to follow the steps below to enjoy these benefits:
Download and log into the MyUMobile app
Tap on Rewards & Promotions > Subscriber Rewards
Tap on the relevant reward. Reward will be made available on the app from 10am, 25 March 2019.
Tap on Save This Deal
Two codes will be saved on the My Vouchers tab. One code can be used to purchase one
ticket.
The codes are redeemable at www.goodvibesfestival.com starting from 12pm, 25 March 2019
For ticket purchase, apply the code upon checkout
You will receive a purchase confirmation email from Good Vibes Festival for every successful purchase
Please note that tickets are available on a first come, first served basis. Other Terms & Conditions apply.
For more information on U Mobile's Good Vibes Festival benefits, follow www.instagram.com/MyUMobile or visit u.my/grooves. For further information on the festival, please visit www.goodvibesfestival.com.
Read also: #Scenes: Here's Everything You Missed At Good Vibes Festival 2018