Attention music lovers, OMNI Waves 2019 – Malaysia's first-ever and largest indoor live music festival – is about to take place this March 23rd at Malaysia International Trade & Exhibition Centre (MITEC), Kuala Lumpur!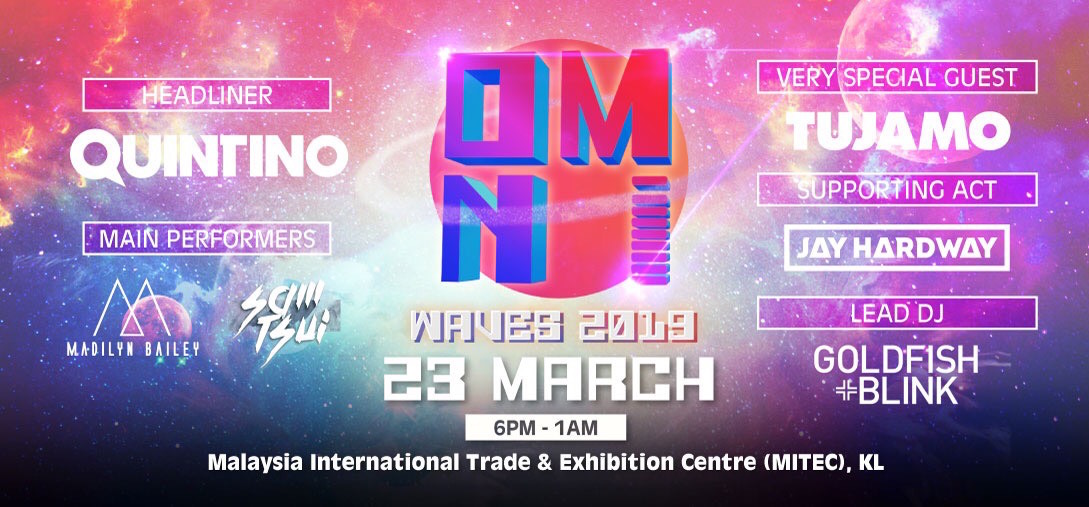 This epic outer space-themed music festival boasts a stellar line-up of artistes including World Top 25 Dutch DJ Quintino, German electro house music producer Tujamo, DJ Jay Hardway, Malaysian DJ duo Goldfish + Blink, as well as renowned YouTube singers Sam Tsui, Madilyn Bailey and many more.
Fans can expect nothing less than a grand, transcendental space odyssey as OMNI Waves 2019 whisks you across galaxies of many genres to the tune of live performances by stellar artists – multiple genres in one festival, performed live!. Combining psychedelic light and sound effects with an out-of-this-world stage design and captivating pyro effects, your voyage with OMNI will surely uplift your mind to a whole new soundscape.
The details of OMNI Waves 2019:
Date    : Saturday, 23rd March 2019
Time    : 6pm – 1am
Venue  : Malaysia International Trade & Exhibition Centre (MITEC), Kuala Lumpur
Ticketing: Normal RM350 | VVIP RM450 comes with 2 Complimentary Drinks*
Full Line-up Promotion: Normal RM250 | VVIP RM400 comes with 2 Complimentary Drinks*
New Category: VIP RM298 comes with 1 Complimentary Drink*
Special 50% Promotion with Promo Code: VIP RM149 without any drink, for 1st1,000-piece*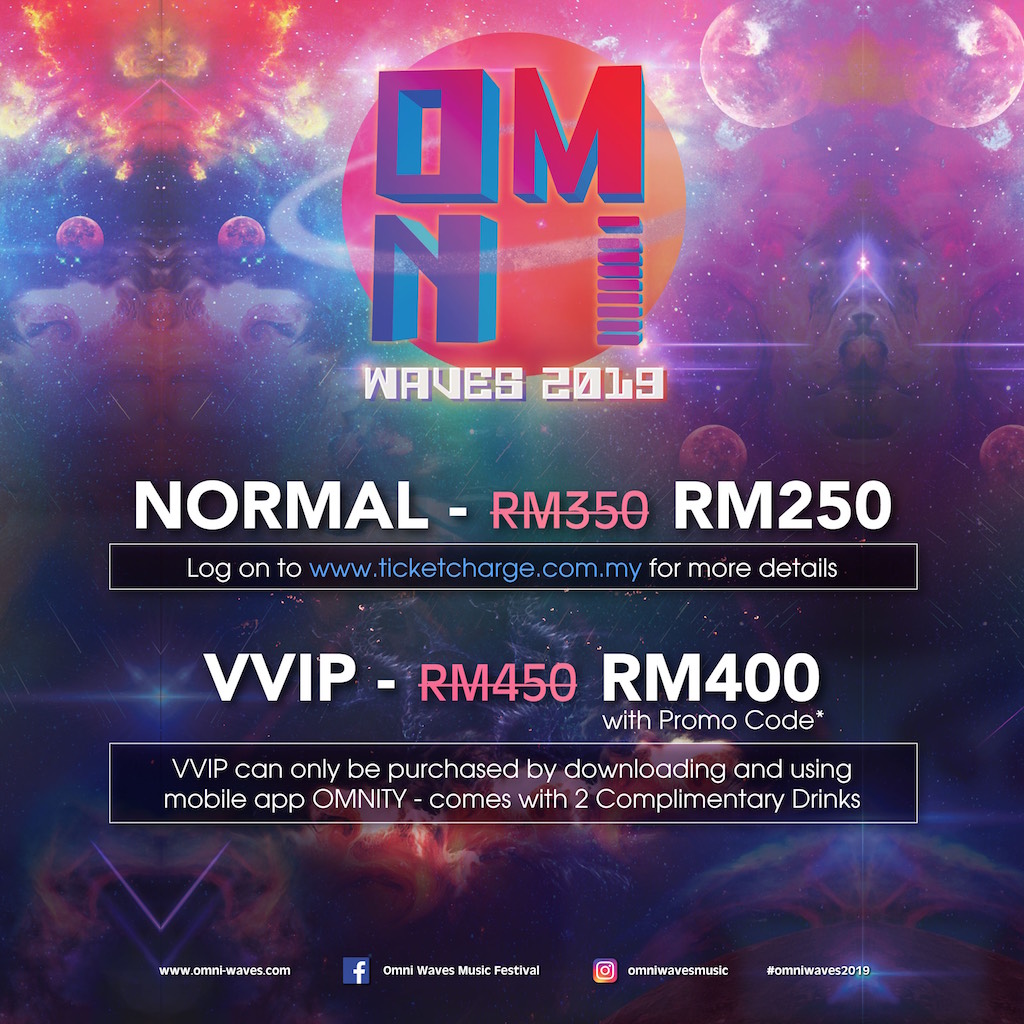 Tickets are already ON SALE and FULL LINE-UP Promotion are available from 21st February to 8th March 2019 at www.ticketcharge.com.my. For VVIP tickets, download Omnity mobile app for any purchase. For VIP tickets, kindly log on to www.airasiaredtix.com. You may visit www.omni-waves.comfor more details. Not to forget, for newly registered Omnity mobile app users, you will be entitled for RM50 credit to spend at Omnity's unique virtual marketplace which is known as OmniMall.
During the Omni Waves 2019 event, all transaction for the purchase of food and beverages will conducted via our cashless payment solution which is an integral part of our Omnity mobile app. Omnity has partnered with the event organiser, JS Entertainment to make OMNI Waves 2019 a true spectacle to behold. This means that the music festival shall be totally cashless, with all purchases conducted via the Omnity mobile app!
Read also: #ZALORAYA2019 Campaign To Kick Off With Exclusive Fashion Presentations and Pop-Up at Publika on Mar 14