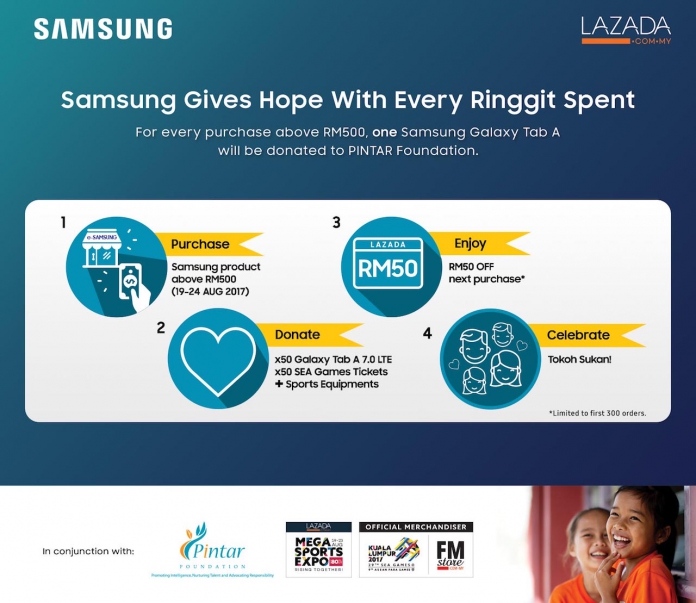 For online shoppers wishing to make a difference and be involved in a philanthropic campaign, here is your chance as Samsung Malaysia Electronics is teaming up Lazada Malaysia to bring education and sports to underprivileged students around Malaysia. From August 19 to 23, 2017, purchases of RM500 and above on Samsung products within the Samsung Official Store on Lazada will contribute to a pool where Samsung will donate Samsung Tab A tablets to 50 deserving "Tokoh Sukan 2017" winners from 50 selected under-served schools under the Pintar Foundation School programme.
Tokoh Sukan 2017, organised by schools in Malaysia under of the Ministry of Education, is an award to recognize students' achievements in co-curricular activities, particularly in sports. Criterion of a Tokoh Sukan 2017 is based on the students' highest achievements for the year – be it at school, district, state, national or international level. With the impending 29th SEA Games (Kuala Lumpur 2017), Samsung is partnering with Lazada to launch Lazada's Mega Sports Day Expo to encourage more students to become active in sports.
In the spirit of the SEA Games and to build the nation's drive for sports, Lazada will be donating sports equipments such as badminton sets, table tennis sets, footballs, volleyballs, netballs, hockey sticks and shin guards to the Tokoh Sukan 2017 winners as part of the Mega Sports Day Expo. Additionally, the official SEA Games merchandise store, FM Store will also be contributing SEA Games closing ceremony tickets to the winners.
Head over to Lazada.com and purchase Samsung products to be part of this programme.
For more information, visit lazada.com.my/samsung-official-store.
Read also: Purchase Samsung Galaxy J Pro Series (2017) to Get FREE One-Year Extended Warranty & Screen Crack Protection