According to Cosmopolitan.com,  Ni'Kita Wilson, who is the cosmetic chemist and formulator of more than 3,500 products, have shared her opinion on the next big skincare trend, which is anti-pollution products.
The Next Big Skincare Trend: Anti-Pollution
Many skin-care brands have already paying attention to the antipollution products, following a number of studies linking the pollution to inflammation, acne, and wrinkles. The particulate matter (PM) which is microscopic carbon particles from soot and traffic exhaust, can sink deep into skin's dermal layer, unleashing collagen-damaging free radicals. In view of the air quality has been deteriorating year by year, anti-pollution products are some of the fastest growing products on the market today.
Anti-Pollution Claim to Gain Popularity
Lately, more and more skincare brands are releasing products which claim to defend pollution from the body and cleanse the skin. According to statistics from Mintel, the leading market intelligence agency, there was a 40 percent increase in beauty/personal care launches with anti-pollution claims, in the Asia-Pacific region between 2011 and 2013. Some skincare products, for instance, promise to defend against up to "PM2.5" which refers to air pollutants with a diameter of 2.5 micrometers or less.
Anti-Pollution Products in Market
Some of the anti-pollution products which are available in the market now.
1) Clinique – Even Better City Block Anti-Pollution formula
This new formula by Clinique is powered by an invisible pollution filter that is composed of an innovative complex of polymers, acts as an environmental shield against daily exposure to harmful pollutants. The lightweight formula is claimed to keep pollution and sun out, and skin stays brighter, longer while potent antioxidants are standing by along with brighteners to help keep skin brighter, more even toned.
2) Clarin – UV Plus Anti-Pollution SPF50/PA++++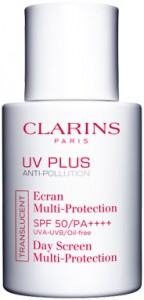 A plant-powered multi-protection cream that has anti-UV, anti-pollution and anti-ageing. It contains Organic Alpine Sanicle extract that has an active anti-oxidant protection on the skin surface and deep down. In addition, the hyaluronic acid contents prevent the skin surface from dehydration and the anti-pollution complex helps to fights the visible signs of premature skin ageing and loss of radiance. It is said to offer resistant protection, even when pollution, heat and humidity are at their peaks.

3) Lancôme – City Miracle CC Cream SPF 50/PA+++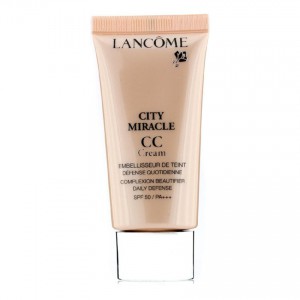 The first CC cream tested in some of the world's most polluted cities like Paris, Shanghai and New York and praised by most women for its ability to resist daily stresses and prevent complexion greying.  An all-in-one healthy glow and anti-tiredness formula to even out the complexion while protecting against UV rays and city stresses and maintaining ideal moisture levels all day long. It protects against the sun, pollution, greying skin and aging with ingredients like glycerine, Detoxyl, adenosine, Vitamin C and G, Kombucha and Musk Rose oil.
4) H2O Plus – Total Source Uv Defense Fluid Spf 50 Pa +++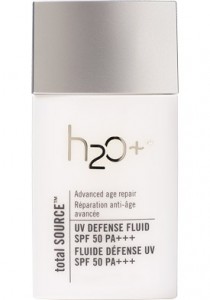 This fast-absorbing fluid creates a transparent veil of chemical-free UV protection to help prevent wrinkles and discoloration. It contains Sea-sourced Pearl Protein Extract and Japanese Seaweed visibly firm and help stimulate skin renewal, and Antioxidant-rich Rooibos and Rosemary extracts help defend against free radical damage and renew skin's vitality. Broad-spectrum UV protection helps defend skin against photo-aging and damaging environmental stresses.
5) Garnier – Skin Renew Anti-Sun Damage SPF28
This Essential nutrients is claimed to efficiently repair the appearance of sun-damaged skin are depleted. It helps to effectively reverse the appearance of sun damage for tone so even, skin looks luminous. It is clinically tested and reviewed by dermatologists and nutritionists. In 4 weeks: fine lines are smoothed, sun spots are reduced and skin is more even.