Lancôme Malaysia's Ramadan-Raya campaign, Keceriaan Bersama Lancôme is happening from 30th April to 30th June 2019 nationwide. As part of the campaign, a buka puasa session was held on May 16th, 2019 at Concourse Level Sogo KL. Based on the theme 'Keceriaan Bersama Lancôme', the event was all about celebrating women's happiness and ensured Lancôme fans feel and look Raya-Ready every single day with the various range of Lancôme's products.
The 200-pax seated dinner affair had included the task of transforming Sogo Kuala Lancôme'sconcourse into an inviting space of rose and cream called the 'Pink French Maison Lancome'. Aspectacularly big Rose Chandelier consisting of cascading rose petals is hung in the middle of the marquee. The chandelier is 3-storey high and visible from the beauty hall on the ground level of SOGO Kuala Lumpur.
It is the first time in 25 years since the main entrance of SOGO Kuala Lumpur had been taken over by a renowned brand. A video visual of Taylor Hill blowing rose petals down, creating the effect of a carpet of flowing petals welcoming you as you are coming into the mall. It is definitely in line with Lancôme Malaysia's Ramadan-Raya campaign to spread happiness.
As many as 200 invites had been sent out to popular media, local celebrities, influencers, renowned makeup artists and TV presenters to join and enjoy the festivities together with Lancôme. VIPs attending the event were Natasha Karim, Lancôme Malaysia's Brand Marketing Director;Zaireen Ibrahim, L'Oréal Malaysia's Marketing Communication Director; Kelvin Chan, Store Manager KL SOGO; Ronnie Tan, Markcom's Senior General Manager (GM); Jason Khor, Markcom's Senior GM Merchandising; as well as brand ambassadors TV actress Mira Filzah and model Venice Min.
While waiting for the rest of the guests to arrive, four (4) interactive activities were organised to entertain. Upon registration, each attendee was given a card to redeem gifts and souvenirs at each activity station. Each guest was given a personalised La Vie Est Belle fragrance, a customised Balik Kampung kit in a Ketupat-shaped bag, a hamper of raya cookies, chocolates and macaroons. Mira Filzah too took part in giving away bottled water, dates and packets of dodol to shoppers visiting the Lancôme booth.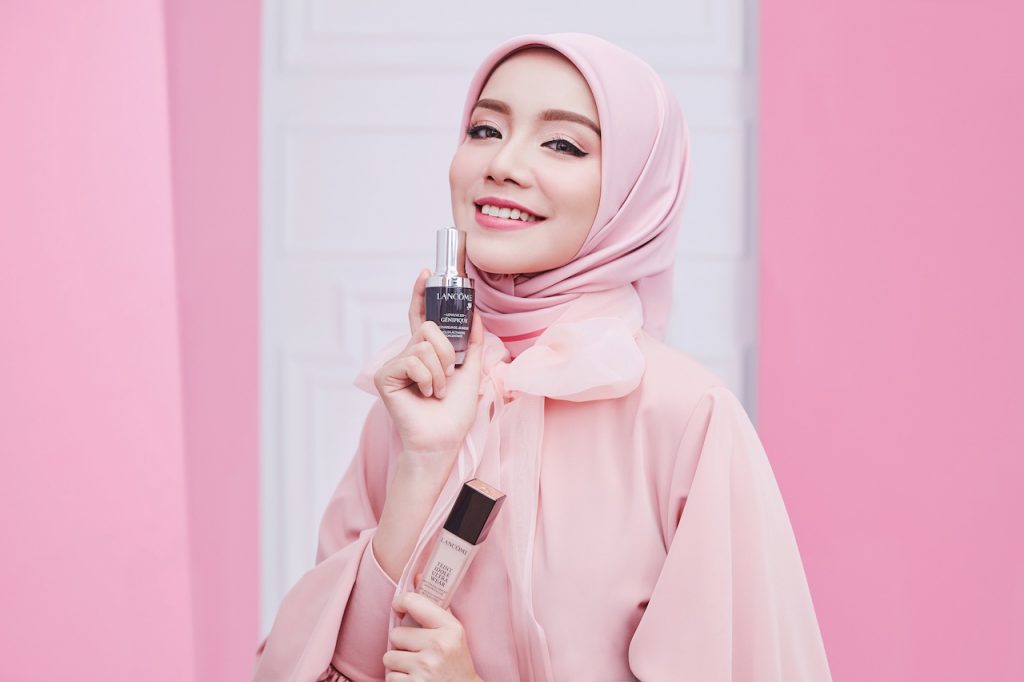 Exciting promotions awaiting you at Keceriaan Bersama Lancôme campaign, includes the Lancôme – Raya must haves that Mira Filzah strongly recommends in the digital campaign videos; #1 serum Advanced Genifique, velvety Matte foundation – Teint Idole Ultra foundation, matte lipsticks – L'Absolue Rouge 270, 505, and the iconic La Vie Est Belle fragrance. Spend a minimum of RM185 and receive a complimentary limited edition Naelofar Raya satin scarf.