Perfect for hijabsters, the Follow Me Green Tea haircare range is now certified Halal so fellow hijab wearers can relax to the scent of refreshing green tea as they wash their hair. Formulated with green tea and plant extracts, the range strengthens hair from the roots and leave hair feeling healthier and more manageable despite the hot weather in Malaysia.
Hair issues such as oily and itchy scalp, follicle congestion or even hair thinning is now far off with the help of Follow Me's Green Tea 6-in-1 Shampoo delivering six benefits in one bottle as it's formulated with ingredients like Polyphenol (a type of natural compound found in the Green Tea extract), Vitamin C and Vitamin E. The Polyphenol also helps to keep the scalp healthy while the Vitamins C and E provide protection to the hair follicles, resulting in silky smooth hair.
Available in 4 variants, the Follow Me Halal Green Tea Shampoo range includes the 6-in-1, Anti-Hair Fall and Scalp Fresh. There's also the Anti-Hair Fall conditioner which helps keep hair and scalp healthy:-
Follow Me Green Tea 6-in-1 Shampoo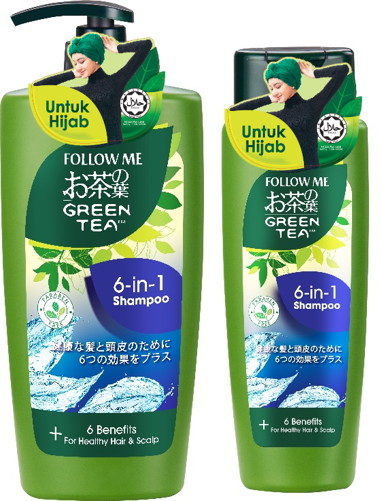 Your scalp will feel refreshed as it's infused with ingredients like Green Tea Extract, Trehalose, ZPT and Climbazole, the shampoo will help to reduce dandruff, relieve scalp itching, prevent hair fall, control sebum secretion, smoothen hair and provide the scalp with a cooling effect.
Follow Me Green Tea Scalp Fresh Shampoo
Enriched with Green Tea, Olive Oil and Lemon extract to help protect hair from free radical while giving a deep cleanse down to the root and delivers hydrating and moisturizing benefits to the entire scalp. It also protects coloured hair and helps to lock it in, leaving hair healthy, smooth and manageable.
Follow Me Green Tea Anti-Hair Fall Shampoo + Follow Me Green Tea Anti-Hair Fall Conditioner
A combined formulation of Green Tea and Grape Seed extract to help reduce hair fall, strengthens and promotes healthy hair growth. To obtain optimum result, use it with the Anti-Hair Fall Conditioner as it further strengthens each strand of hair, thus preventing split ends and hair thinning while ensuring that your hair is always smooth and shiny.
Both the Halal Green Tea Shampoo (320ml/650ml) and hair conditioner (320ml/650ml) retail at RM10.28 and RM17.83 before GST respectively. They are available at all leading
hypermarkets, supermarkets and selective pharmacy stores.
In conjunction with the "6 Secrets to Overcome Hair Problems in 1 Shampoo!" campaign
which is ongoing now till end of December, Follow Me is organising a Facebook contest and
roadshows that will win shoppers attractive prizes.
For more information, visit Follow Me's Facebook or www.tohtonku.com.my.
Read also: Keep Your Hair & Scalp Healthy With The New, Reformulated Follow Me Green Tea Shampoos & Conditioners