Bask in melodious carols under the warm lights this holiday with Mamonde's 'Glowing
Garden' Holiday Collection of specially curated holiday sets that are perfect as gifts for oneself and for loved ones.
Exquisitely packaged in beautiful boxes with striking metallic gold accents on a backdrop of
garden flowers and traditional Christmas ornaments, Mamonde's 'Glowing Garden' Holiday Collection 2018 consists of 4 gorgeous sets to help brighten and warm your holiday mood and look.
The Night Before Beauty Holiday-eve Sleeping Set, RM65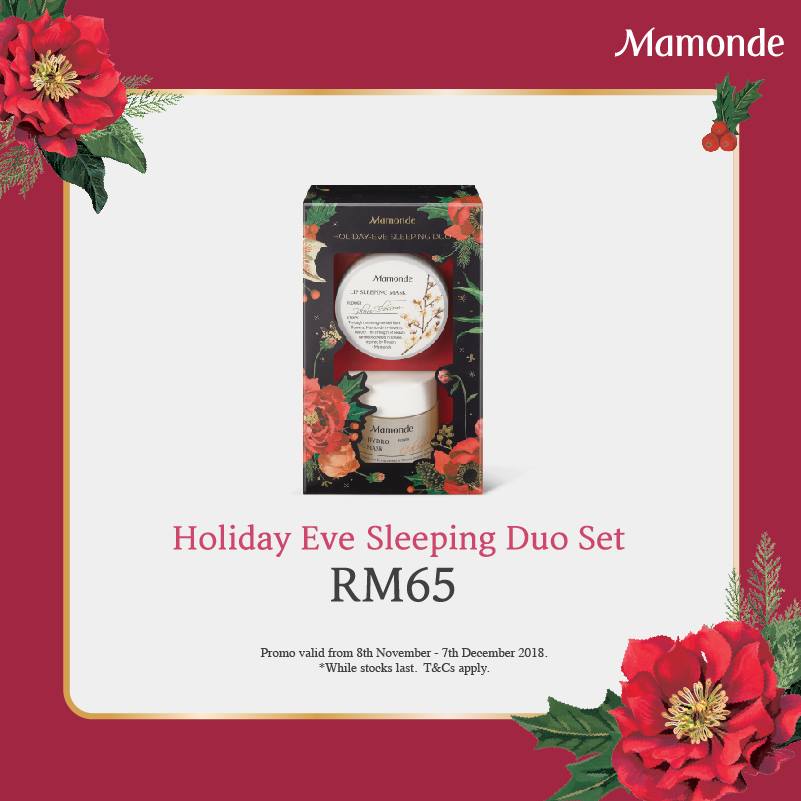 Prep your face and lips for a whole day of holiday festivities with loved ones by giving your
face the hydration that it needs. Both the Calming Hydro Sleeping mask and the lip mask are derived from natural ingredients like Calendula petals and Plum blossom extracts that will help to deeply nourish and moisturize the skin overnight for healthy and happy skin.
Flower Power 5-Day Sheet Mask Set, RM59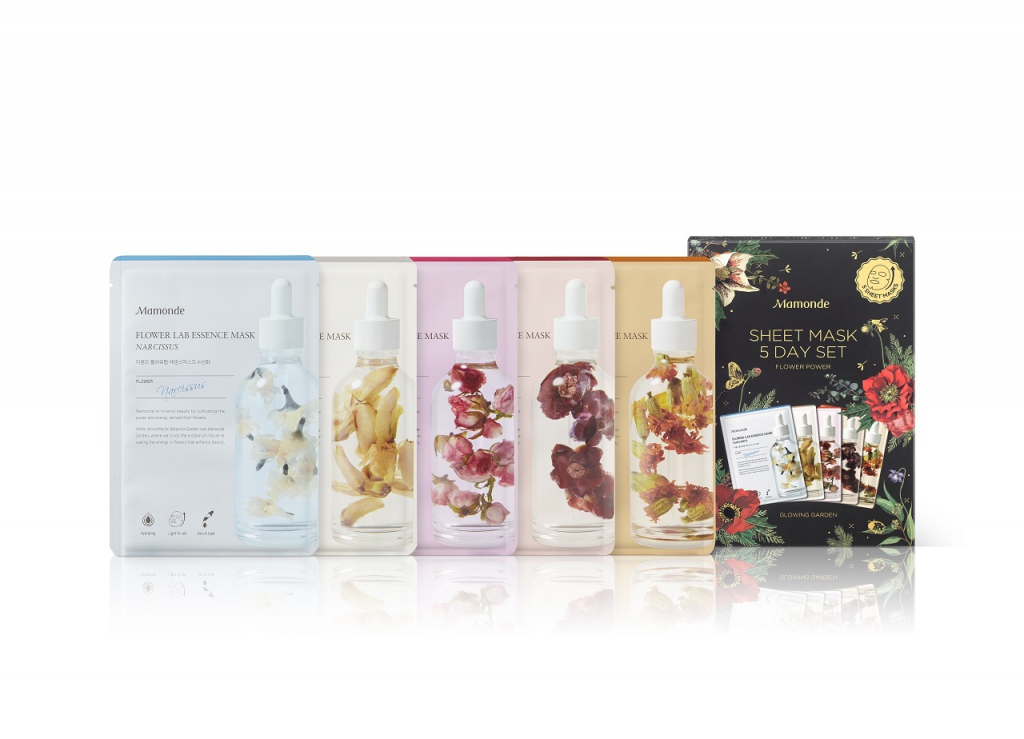 Show your skin some love with Mamonde's Flower Power 5-Day sheet masks that are catered to tackle all of your skincare worries. This sheet mask set is perfect for sharing during holiday gatherings or you can also choose to pamper yourself instead with a whole week of back-to-back 5-Day nourishment as you sit back and relax. A complete set includes 5 different types of fitting sheet masks enriched with 2000ppm of
flower extract to effectively deliver nutrients to the skin.
The Narcissus sheet mask is a moisturizing mask that helps to replenish the skin with bountiful moisture after a productive day. The Magnolia sheet mask effectively works to help brighten and clear the complexion for glowy, healthy skin. The Rose sheet mask is a moisturizing mask that is perfect for days spent out and about as it helps to keep the skin happy and hydrated for long hours. The Camelia sheet mask works not only to help nourish rough skin but also for keeping the skin firm. Lastly, The Calendula sheet mask helps to soothe and combat dry skin by providing the skin all the moisturizing nutrients that it needs.
Color Your Way Creamy Tint Color Balm MLBB Mini Set, RM149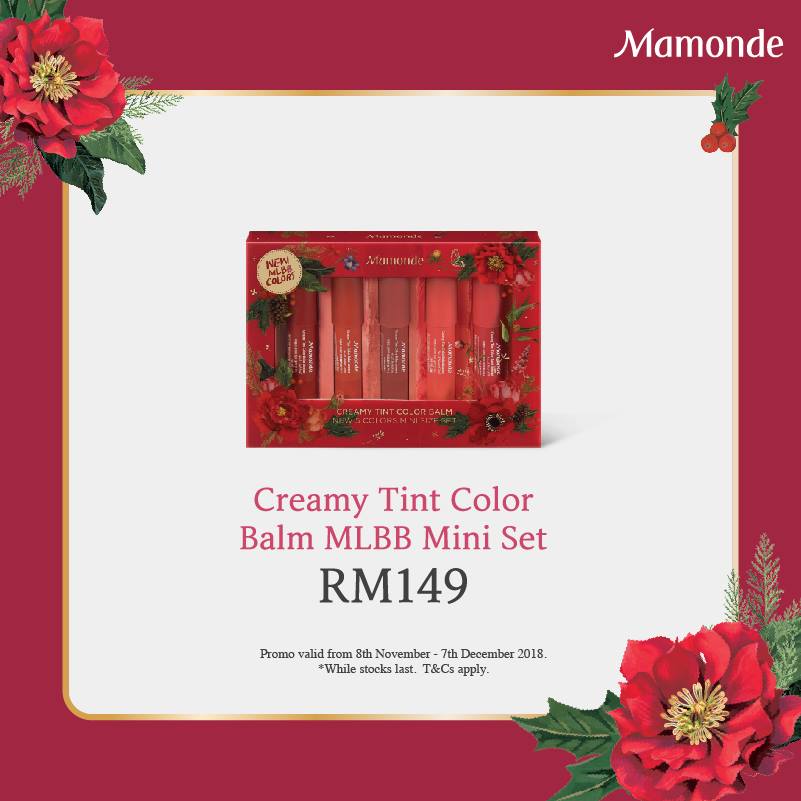 Be the talk of the town with the "My Lips But Better" creamy tint colour balm range, created to help keep your lips looking plump and hydrated with neutral shades that enhance your natural lip colour. Formulated with Silicon Elastomer Gel to help lock in moisture and coccoid powder for a smooth no-smudge velvet finish, the colour balm glides on easily over the lips for an effortless makeup look.
All colours of the MLBB Creamy Tint Colour Balm range are available in mini sizes in one
convenient package, so you can rock a different shade of colour balm for every occasion.
Creamy Tint Colour Balm MLBB Mini No.21 Red Soul
Creamy Tint Colour Balm MLBB Mini No.22 Dandy Coral
Creamy Tint Colour Balm MLBB Mini No.23 Brick Rose
Creamy Tint Colour Balm MLBB Mini No.24 Nectar Coral
Creamy Tint Colour Balm MLBB Mini No.25 Rosy Silk
Creamy Tint Squeeze Lip Best 3 Colours Set, RM150 (SEPHORA Exclusive)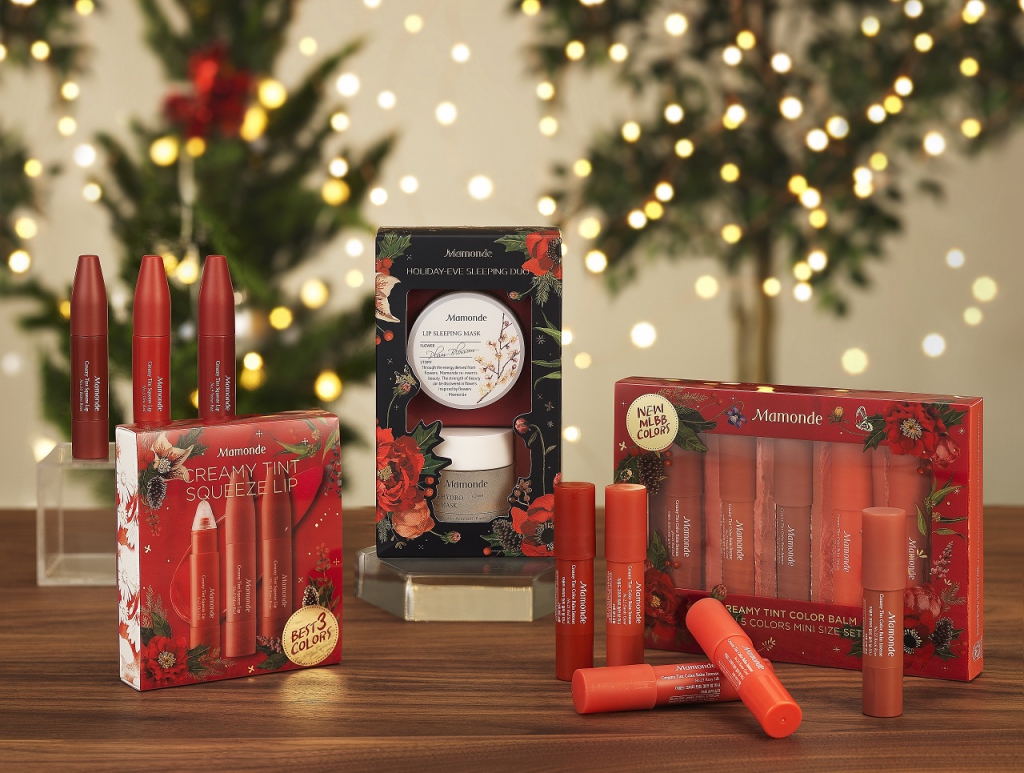 Strut into every holiday party with confidence and a lip colour that pops! Formulated by liquifying solid lipstick under low temperature, the squeeze lip tint provides highly-pigmented colours with just a single squeeze. The product is also infused with 28% Rose Water that fills in the wrinkles of lips and leaves it looking smooth and plump. Applying a small amount of the squeeze lip tint creates velvet-looking lips while a dewy look can be achieved with a more concentrated colour.
For this lip set, the best three colours from the Creamy Tint Squeeze Lip range have been
selected so that you can enjoy all of the best looks in one go. The Creamy Tint Squeeze Lip Best 3 Colours Set includes:
Creamy Tint Squeeze Lip No.3 Chic Red
Creamy Tint Squeeze Lip No.9 Red Velvet
Creamy Tint Squeeze Lip No.10 Retro
The 'Glowing Garden' Holiday Collection is available at Mamonde Beauty Counters at Aeon 1 Utama, PJ, Aeon Mid Valley Megamall, KL, Parkson Suria KLCC, KL, Aeon Bukit Indah, JB, Aeon Tebrau City, JB, Penang and Parkson Gurney Plaza, Penang. It is also available on Hermo.my and Lazada.com.my.
Follow Mamonde Malaysia on Facebook and Instagram for the latest updates.
Read also: Tried & Tested: Mamonde Petal Purifying Bubble Mask & Calming Hydro Sleeping Mask